When it comes to choosing types of cookware for easy outdoor feasts, we have two main requirements: durability (to work well on the open fire) and versatility. Based on our 5 years' experience in outdoor cooking, here are our most favorite picks:
Pots With Strainer Lids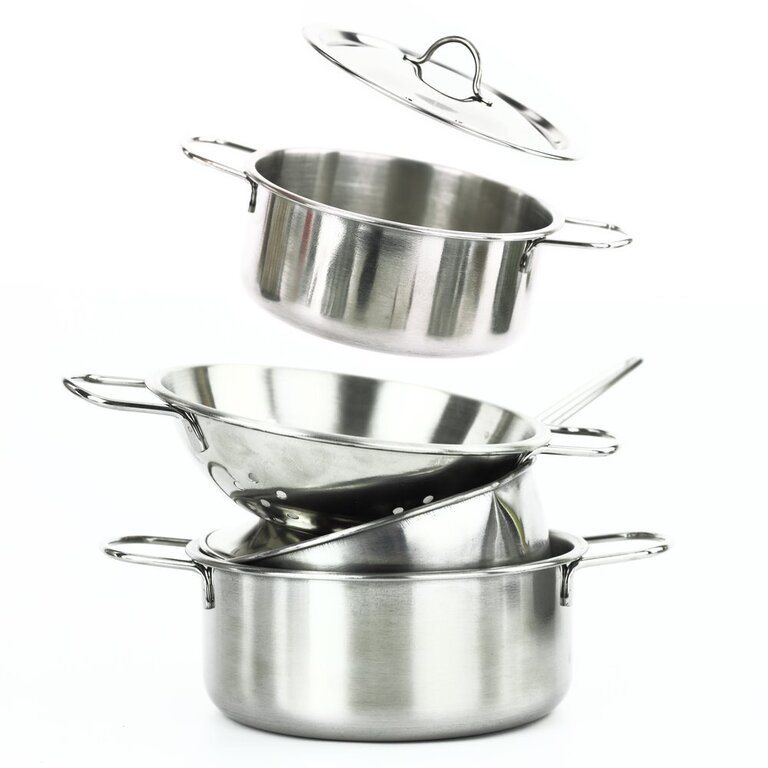 This is a must of any camping kitchen bin because it works well on any cooking method, whether stewing, frying, steaming, or boiling.
There are three key factors you should consider when looking for camping pots:
Pot materials – which affects the cooking performance
How many pots you need – which depends on your menu plans, the total number of dishes you want to cook
The size of each pot – which depends on how many people you are going to cook for
Besides, you should consider your stove and your weight considerations.
Three-quart instant pots are perfect for 1-2 people while 5- or 6-quart pots are for 3-4 people. If you're going to cook for a big family of 5+ people, choose an 8-quart pot.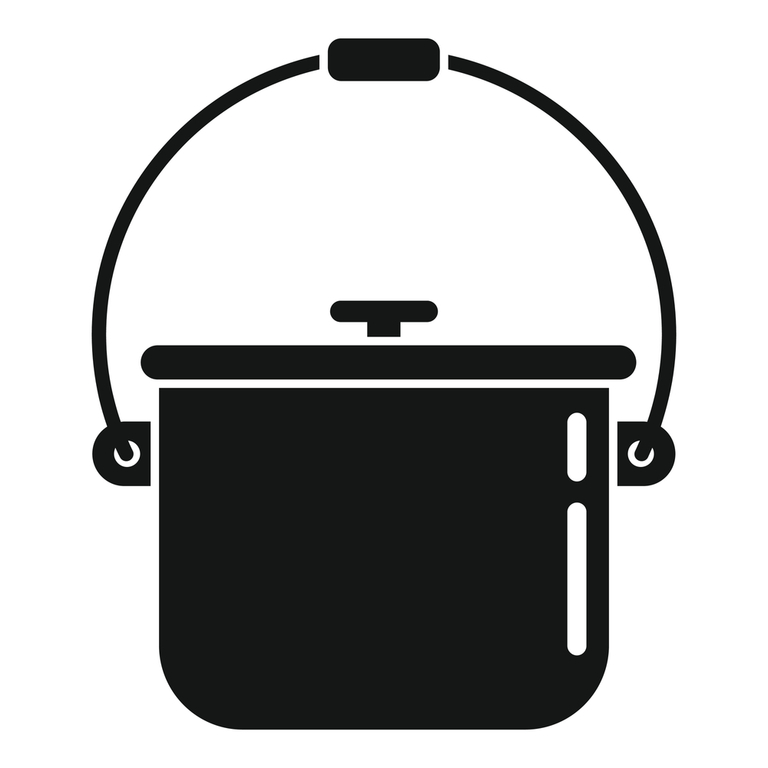 A basic rule of thumb is the larger the pot, the heavier and bulkier.
However, in our opinion, the difference in weight between an 8-quart pot and a 3-quart pot is negligible but cooking in the larger one is a lot faster and more convenient. So, if you have to size up your pots, just go ahead.
Or, you can go for a nesting set for extra space-saving.
Bonus: Which pot materials are best for outdoor cooking?
While there are various choices of pot materials, here are the four picks that we find the most versatile because they can work well on both open fire and stove top.



Advantages

Disadvantages

Copper

Superior heat conduction

Heat up fast -> time-saving for cooking

Require less heat for cooking –> fuel-efficient

Expensive

Anodized Aluminum

Lightweight

More durable than regular aluminum

Scratch resistance

More affordable than stainless steel

Not distribute heat evenly

Not as durable as stainless steel or cast iron

18/10 Stainless steel

Durable

High heat tolerance (but not as good as cast iron)

Safe to use

No metallic taste in the food

Lighter than cast iron

Prone to be oxidized by high heat

Pricier than anodized aluminum

Cast Iron

Extreme durability

Distribute heat evenly

Retain heat longer

The heaviest
Cast Iron Skillet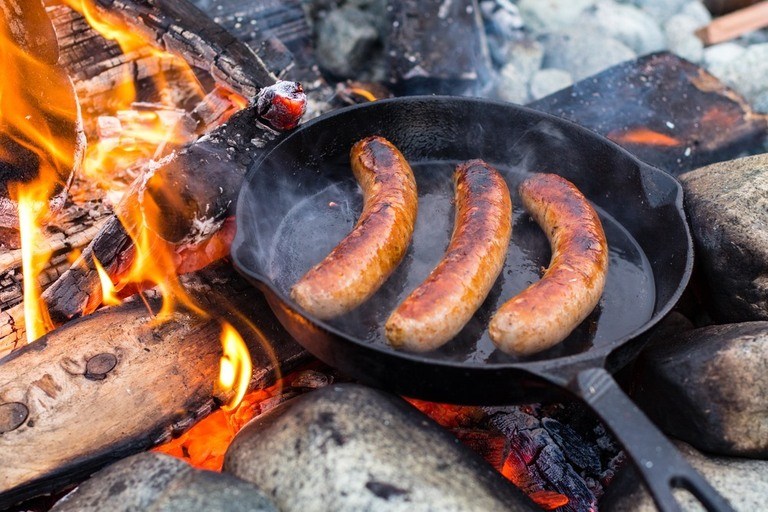 If you're going to have a car camping trip, a cast-iron skillet is another essential cookware.
Compared to other materials, cast iron helps make better-tasting dishes and besides, it is easier to use and more durable.
A typical example is that while stainless-steel skillets are prone to be burnt if cooked over a campfire, cast-iron one works like a champ.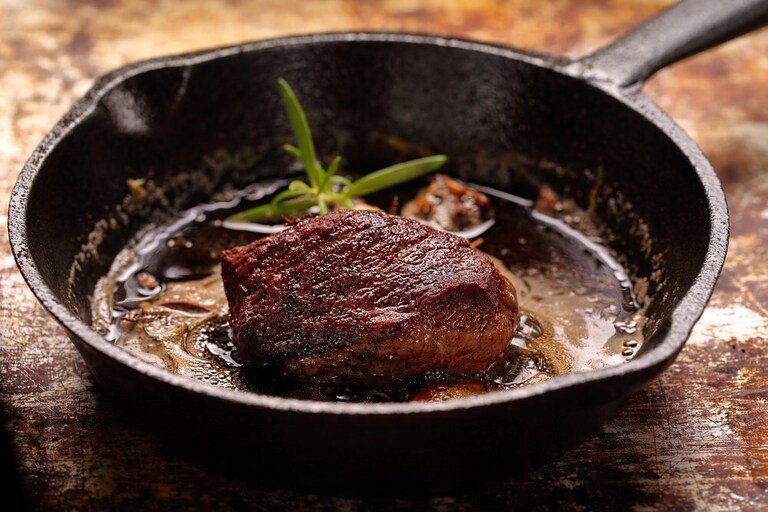 And, because cast-iron material is naturally non-stick, you can cook meat, scrambled egg, salmon, pancakes, and anything delicate in them with peace in mind. A deep cast-iron skillet can alternate a soup pot, on the other hand.
To keep your dishes away from bugs and to retain the heat, choose a cast iron skillet with a lid.
Dutch Oven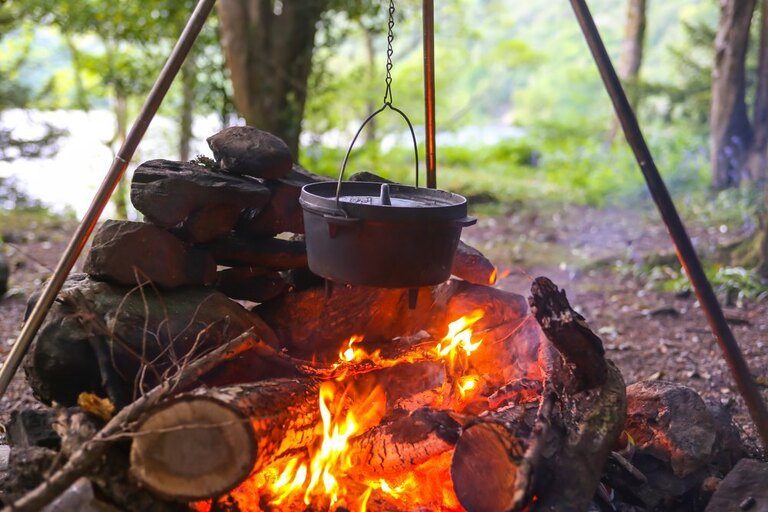 A good Dutch oven is the workhorse of pots. It can stew, sear, simmer, braise, bake, fry, and make sauces on both the oven and stove top with excellent heat distribution for wonderful results.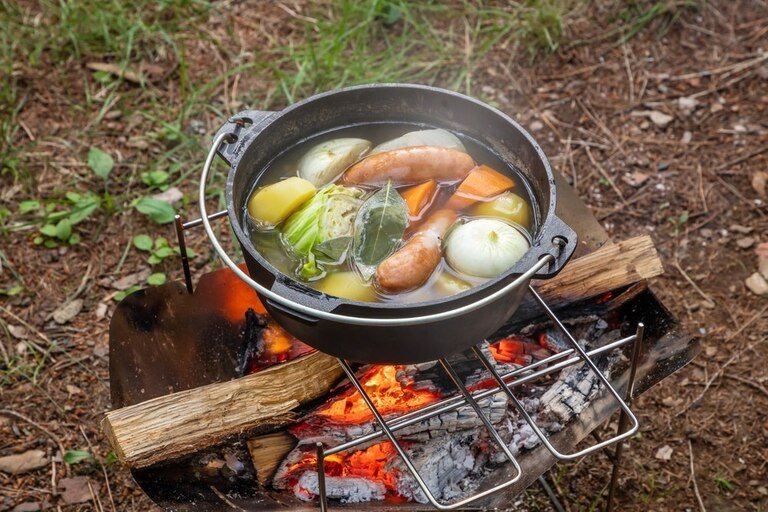 You can also use it for cooking at low-and-slow temperatures or at high heat. Another plus is that Dutch ovens are deep enough to hold quarts of soup or large fillets/cuts of meat.
Moreover, Dutch ovens' material is good at heat-retaining, especially when they are covered tightly.
The only drawback is their heavyweight.
Other Options
If you want a travel-light camping trip, choose disposable cookware or alternatives to pots and pans. Here are some good options for you (they can cook over the open flame):
A Thick Metal Coffee Can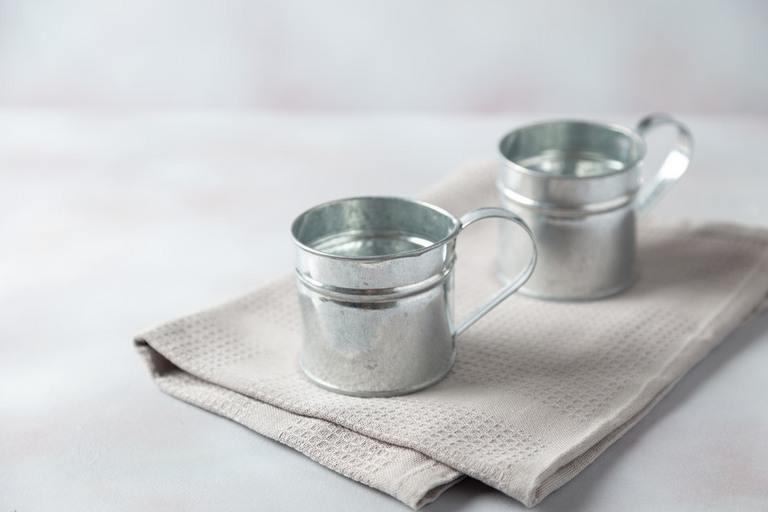 This cookware alternative gives incredibly good cooking results. Using it, you save extra bucks on buying additional camping gear.
Note that coffee can doesn't feature handles so you should use fire-safe tongs or anything like that when removing it from the fire.
550- Or 600-Degree-Fahrenheit Heat-Rated Stoneware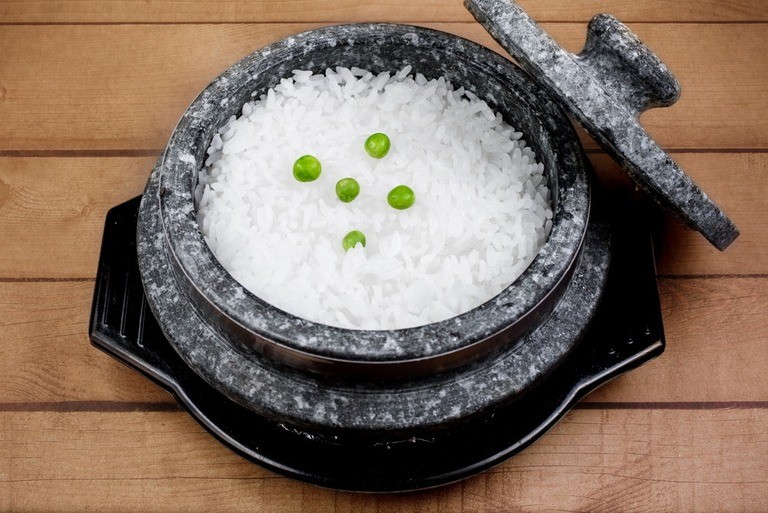 Most stoneware can't handle high heat above 450 degrees F while the heat of a campfire likely exceeds that range. That explains why you should choose stoneware with a heat rating of 550 to 600 degrees F in this case.
These pieces work just as cast-iron cookware.
They distribute heat evenly and keep hot longer. Heat-rated stoneware is commonly used for baking biscuits or making pancakes over a low fire.
Old, High-Quality Cookie Sheets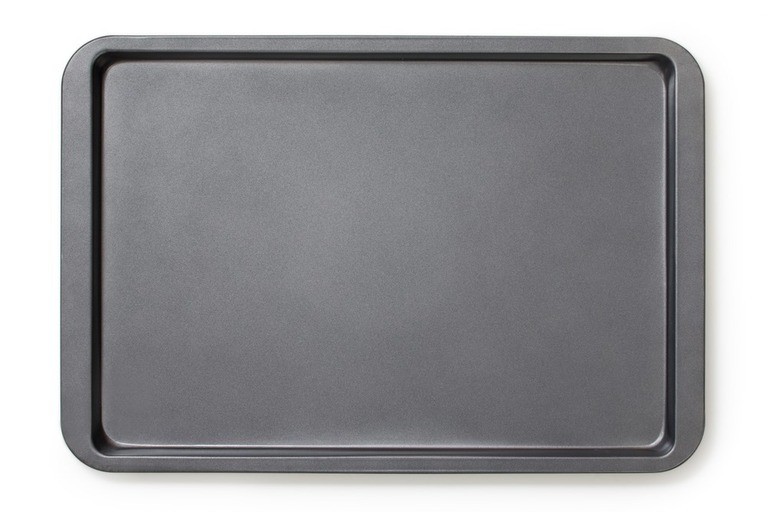 If you have some unused yet sturdy cookie sheets, pack them for your upcoming outdoor trip because they are a perfect alternative for pans.
A trick to make them mess-free and non-stick when cooking is lining the inside with a layer of aluminum foil.
Note that over the open fire, the bottom of cookie sheets might be burnt a bit.
Conclusion
We have just walked you through all the types of cookware for easy outdoor feasts. Hopefully, our suggestions were helpful for you. Please let us know your thoughts and opinions about our work so that we can improve our posts' quality. Thanks for reading!