A sleeping bag has become an indispensable part of our camping & hiking kit. In fact, nobody wants to spend a night out in the wood, half freezing that the night will soon be over.
Once you grasp the importance of having a sleeping bag in your journey, the next daunting step is to choose one.
To save you much time shopping around, we've researched and picked all the best items below.
Here are the best budget sleeping bags (Sep 2023 Update):
Best Overall:

WINNER OUTFITTERS Mummy Sleeping Bag

Runner-Up:

Coleman Adult Sleeping Bag

Most Lightweight:

Pumpkino Ultra Lightweight Sleeping Bag

Budget-Friendly:

AbcoSport Lightweight Single Sleeping Bag

Best Value:

Hyke & Byke Eolus Sleeping Bag

Warmest:

Paria Outdoor Products Thermodown Down Sleeping Bag
Best Overall: WINNER OUTFITTERS Mummy Sleeping Bag
Synthetic
Top Pick
WINNER OUTFITTERS Mummy Sleeping Bag
Pros
Lightweight
Zippers allow users to regulate heat
Suitable for people with asthma or allergy
Water-resistant and easy to dry
Cons
The mummy shape could make some people uncomfortable
The insulation material makes it hard to compress the sleeping bag
This mummy-shaped sleeping bag offers more bang for your bucks for numerous reasons.
First of all, thanks to the mummy shape, which covers the whole body, a Winner-Outfitters mummy sleeping bag is able to maximise warmth. Mummy shaped sleeping bags are generally more lightweight than their counterparts. For some people, however, the mummy shape isn't comfortable since they can't move their body freely.
This sleeping bag from Winner Outfitters offers a temperature rating of 35 to 45 °F, which is compatible with cold weather, especially within temperate zones in early autumn.
Winner Outfitters uses hollow fiber filling to insulate the sleeping bag. To people who are allergic to animals or have asthma, this insulation material is their best option. Inside the bag, you will even find extra polyester filling in some kinds of tube forms, which add additional insulation and prevent heat loss.
Together with the packing, you also receive a stuff sack to help keep the sleeping bag in a compact form. This stuff sack comes with straps that can compress the pack from 13" to 9", leaving more space inside your backpack. Since this is a three-season sleeping bag, the manufacturer has made zippers so that you can adjust heat as you wish.
Then again, people who put the quality of a sleeping bag first will hesitate when choosing this sleeping bag due to its insulation material. Synthetic sleeping bags are less nifty than other insulation materials since you can't pack them too small. The durability of the synthetic material is also questionable.
Product Specs:
| | |
| --- | --- |
| Size | 32"W x 87"L |
| Weight (lbs) | 5.5 |
| Insulation | 200G/㎡ hollow fiber filling |
| Temperature rating °F | 40/35 ℉ |
WINNER OUTFITTERS Sleeping Bag offers significant advantages for travelers. If you are looking for something useful and affordable, go for it.
Runner-Up: Coleman Adult Sleeping Bag
Synthetic
Coleman Adult Sleeping Bag
Pros
Suitable for most heights
Water-resistant and washable
Adopts fiberlock construction to ensure the durability
Coleman is probably one of the most famous names in the world of sleeping bag manufacturers. They provide the best and most high-quality sleeping bags that travelers dream of. This item from Coleman isn't the odd one out.
This sleeping bag adopts the most common shape: the rectangular one. This shape allows users to move freely. Those who want a little more space for maximum relaxation.
Moreover, this item is an excellent sleeping bag for couples. You can create a double-sized sleeping bag by joining two similar ones together. That way, you can share the warmth and coziness with your travel mate.
Coleman sleeping bags are suitable for temperature between 20⁰ F to 40⁰ F. This is a wide range of temperature rating, that means you can use it either under a snowy condition in winter or late autumn.
One thing to notice that this item adopts what's called fiberlock construction to prevent insulator from moving. The filling will be trapped into different squares and locked there so that it can't shift when you roll up the sleeping bag.
However, this item is quite substantial. The polyester fill doesn't make it any easier to fold this sleeping bag. In fact, many people have already complained that they couldn't even fit it into the stuff bag. That's quite trivial compared to its enormous useful features.
Product Specs:
| | |
| --- | --- |
| Size | 33 x 75" |
| Weight lb | 5.5 |
| Insulation | Polyester fill |
| Temperature rating °F | 40/20 ℉ |
If all you need is an inexpensive camping sleeping bag with durability and best features, Coleman sleeping bags should be on the list.
Most Lightweight: Pumpkino Ultra Lightweight Sleeping Bag
Synthetic
Pumpkino Ultra Lightweight Sleeping Bag
Pros
Super versatile
Suitable for summer outdoor camping
The polyester filler is washable and non-allergenic
Rectangular shape for utmost comfort
Cons
Not for extreme cold weather
It's hard to find a sleeping bag weigh less than 2 lbs. However, Pumpkino did break the record by presenting a 1.7 lbs sleeping bag. This lightweight companion is super versatile since you can carry it anywhere with ease. The polyester filler provides moderate, and you can always adjust the heat with zippers when it transcends your tolerant zone.
This is a summer camping sleeping bag, which means the temperature rating is quite high. With the most comfortable fabrics and insulation materials, Pumpkino ultra-lightweight sleeping bag ensures your comfy sleep when it is hot.
The rectangular shape allows travelers to have more room to move their body as well as prevent excessive heat. Furthermore, you can make a double-sized sleeping bag by forming two similar one together. It'd be more fun to sleep next to your kids and loved ones on a camping trip.
Product Specs:
| | |
| --- | --- |
| Size | 73x33" |
| Weight lbs | 1.7 |
| Insulation Material | SILKY polyester |
| Temperature rating °F | 70℉ |
If you want to go camping in autumn or spring when the temperature can drop below 54°F, using this sleeping bag is not a good idea. Other than that, this sleeping is a good investment for family and couples who often go camping in summer.
Budget-Friendly: AbcoSport Lightweight Single Sleeping Bag
Synthetic
AbcoSport Lightweight Single Sleeping Bag
Pros
Lightweight
Synthetic insulator makes it easy to wash and dry
Nonallergenic
Cons
Can't maintain warmth in long-term use since the synthetic insulator creates cold spots eventually
Abco Tech offers travelers a temperature rating of 20°F, which means travelers can sleep comfortably when everything is freezing outside. This is really a good catch for backpackers since the sleeping bag is lightweight and very portable.
One important note that this sleeping bag is also designed to use for summer camping trips. The rectangular shape allows air to flow inside, making users feel more comfortable. The zipper allows you to adjust the bag easily whenever you feel hot.
Thanks to the design of the bag, travelers don't feel weighed down when they have to carry lots of stuff together. Plus the included stuff bag can save more space inside your rucksack by compressing the sleeping bag to 7 x 13 x 8 inches.
One thing to note is the synthetic insulator. The polyester fill offers comfortable warmth. It is also non-allergenic, which is suitable for asthma and allergic travelers. Plus, you can easily wash the sleeping and wait for a couple of hours for it to dry.
The top concern of many people is that whether their sleeping bag is water-resistant. No one wants to end up freezing in snowy conditions anyway. In this case, Abco Tech sleeping bags live up to travelers' expectation. This item is absolutely waterproof. No matter what condition, whether it's cold or humid, you can still sleep pleasantly.
The synthetic insulator could have some less desirable sides. After using it several times, I found that polyester fill tends to fall apart and creates cold spots.
Product Specs:
| | |
| --- | --- |
| Size | (75+12) x 30 inches |
| Weight (lbs) | 3 |
| Insulation | polyester fill |
| Temperature rating °F | 20 ℉ |
In term of durability, this might not be the best option for long-term travelers. For the part-time ones, who embark on camping or trekking trips once or twice a year, Abco Tech does provide the best sleeping bag for occasional travelers.
Best Value: Hyke & Byke Eolus Sleeping Bag
Down
Hyke & Byke Eolus Sleeping Bag
Pros
Nature-friendly
A wide range of temperature rating
Lightweight and compact
Cons
A little pricey
Hard to dry
If you prefer nature-friendly products, this goose down sleeping bag is a great option. Goose down insulation is a better alternative to synthetic material.
Their durability is 4-times as high as synthetic fill. Goose down also provides better temperature rating, meaning you can sleep outside with the lowest temperature of 15°F. Thanks to this material, rolling up sleeping bags isn't a nightmare anymore. However, as you can see, goose down insulation makes the price of the Hyke & Byke sleeping bag a bit higher than its opponents.
The temperature rating from Hyke & Byke is considerable. If you want to travel during winter, when the weather goes all the way down to 15°F, then Hyke & Byke can surely provide adequate warmth to stay through the night.
This sleeping bag is also in the mummy shape. Therefore, no space is wasted. The natural insulator also allows Hyke & Byke sleeping bag to be compact so it doesn't take up too much room in your rucksack.
As mentioned, the natural insulator often asks travelers to pay more money than other insulators. Plus, goose down isn't compatible with water. Once the sleeping bag gets wet, it takes a long time to dry, which can be annoying for some people.
Product Specs:
| | |
| --- | --- |
| Size | M/L/XL |
| Weight (lbs) | 2.31 lbs to 2.66 lbs |
| Insulation | goose down filling |
| Temperature rating °F | 30/15 °F |
Hyke & Byke Eolus is one of the best sleeping bag out there. So if you don't mind to pay extra for a high-quality sleeping bag, don't hesitate to choose it.
Warmest: Paria Outdoor Products Thermodown Down Sleeping Bag
Down
Paria Outdoor Products Thermodown Down Sleeping Bag
Pros
Down insulator for maximum warmth
Super lightweight, suitable even for backpackers
Cons
Quite expensive
Not completely waterproof
May not be comfy due to the mummy shape
Down insulator that Paria Outdoor Products uses for their sleeping bags ensures the all-out warmth even when the temperature drops to 15 °F.
The mummy shape also contributes to the extended capacity to keep warmth under extreme weather. Plus, the sleeping bag allows you to compress it down, saving plenty of space inside your backpack. This item is famous for its durability since down-filling sleeping bags are famous for their long-term use.
The drawback here is that this isn't a complete waterproof item, so you may not want to sleep in cold, wet ground. Even though the cover is made of nylon fabrics, once the water penetrates inside, it'll be hard to get dry.
The prominent feature of this sleeping bag is that it is incredibly lightweight. Coupled with the ease to pack, this item is exceptionally versatile for camping trips, especially in those you have to walk to get to the camping site.
Like other camping sleeping bags, this item is multi-functional. Many folks don't want to sleep in the cold ground. That's why Paria Outdoor Products offers this mummy shaped sleeping bag which can be used with a hammock for maximum relaxation.
Product Specs:
| | |
| --- | --- |
| Size | 56X78" |
| Weight lb | 2.6 |
| Insulation Material | down insulation |
| Temperature rating °F | 15℉ |
The price is also a little off-putting for many budget travelers. However, with all the strength it offers, Thermodown 15 Degree is the best sleeping bag for camping purposes.
How To Choose A Good Sleeping Bags?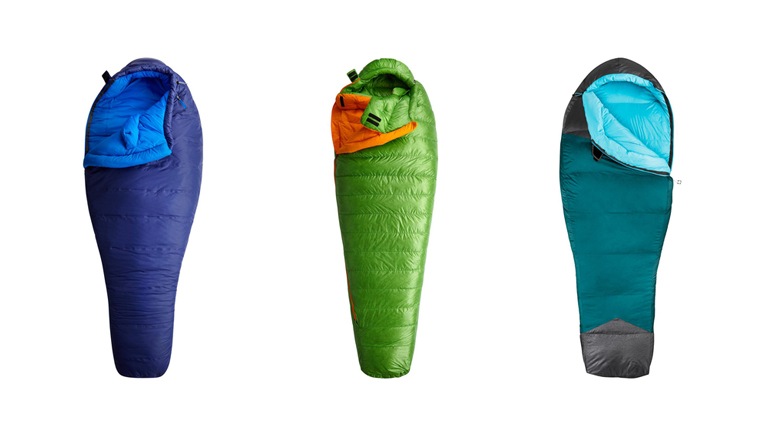 When shopping for sleeping bags, you will see something like three-season sleeping bags, summer or winter sleeping bags, sleeping bags for backpacking and even camping sleeping bags. So what's the difference between them?
Basically, three-season sleeping bags are designed to use in a different kind of weather. Sound great, doesn't it? However, those all-in-one bags will never reach the peak comfort when it comes to either summer or winter. In fact, you can use three-season sleeping bags in most case and most weather.
Summer sleeping bags, though designed explicitly for summer, are quite similar to the three-season ones. However, summer sleeping bags are often more comfortable and suitable for hot and humid nights.
Most backpacking sleeping bags are lightweight since their owners need to carry a lot of stuff as well. Camping sleeping bags, on the other hand, are slightly more prominent so that travelers can use them for multiple functions.
FAQs
What does the temperature rating mean on a sleeping bag?
Sleeping bags often use a system of temperature rating to indicate the lowest temperature at which a person can sleep comfortably with a sleeping bag.
Hence, if you see a sleeping bag with a temperature rating of 15°F, that means the bag can provide adequate warmth for a comfy sleep. That, however, doesn't mean that you can sleep inside the bag without long underclothes and an additional pad under the sleeping bag.
Typically, summer sleeping bags often offer a temperature rating of somewhat above 40 °F, whereas three-season sleeping bags aim at the colder weather, providing from 15°F to 45 °F, which will be suitable for early/ late spring and autumn.
Winter sleeping bags feature the lowest temperature rating of average 10°F or even lower. Bear in my that you should choose sleeping bags with temperature rating lower than the actual temperature you suppose to come across.
Down or synthetic sleeping bag? What are the differences?
Two most frequently used insulation materials for sleeping bags are either down or synthetic.
As for down, manufacturers use goose or duck feathers for maximum warmth. Down insulator also make it easy to fold and compress sleeping bags. You can count on the durability for keeping warm of this material.
In spite of this, down insulators are not water resistant, which means down sleeping bags are not washable, or you have to wait quite a while for them to dry.
Unlike down insulation, synthetic insulators are washable and easy to dry. They are also perfect for people with long-standing inflammatory infections of the airways such as asthma or people who are allergic to animals' feathers.
Synthetic insulators are often made of polyester or fiber. The shortcoming of this insulators is that they tend to shift and form lumps.
How do you roll up a sleeping bag?
Rolling up a sleeping bag could be discouraging if you don't know how to do it. Follow these steps for a correctly folded sleeping bag.
Preparation: Gather your sleeping bag, straps (in case your sleeping bag don't provide belts) and a rock or something heavy.
Lay out the sleeping bag. Make sure that the bag is as flat as possible. Remove excessive air in between by scanning your hands up and down the bag.
Pleat the sleeping bag in half, rubbing all the excess air out of the bag.
Folding the sleeping bag. In this step, you may place a rock or a heavy object at the top of the bag, and start folding from the other end. After rolling the bag, use straps to keep the bag in shape and put it into your stuff sack.
Conclusion
To wrap up, in order to choose the most suitable sleeping bags, you need to take several factors into account, whether it is your season preferences or the willingness to pay.
Each type of sleeping bags, three-season or one-season, camping or backpacking, has its advantages and drawbacks.
Hope my list help you find your best sleeping bag! Happy camping!