This article will walk you through some tips for personal hygiene when hiking, from your body to clothes and dishes. Our experts also share their experience on how to deal with periods while hiking, along with the must-have essentials for personal hygiene. Read on!
Tips For Personal Hygiene When Hiking
Always Clean And Dry Your Feet Before Changing Socks
This little act will significantly help avoid nasty bacteria growth plus bad odors. Remember to dry in between your toes after cleaning.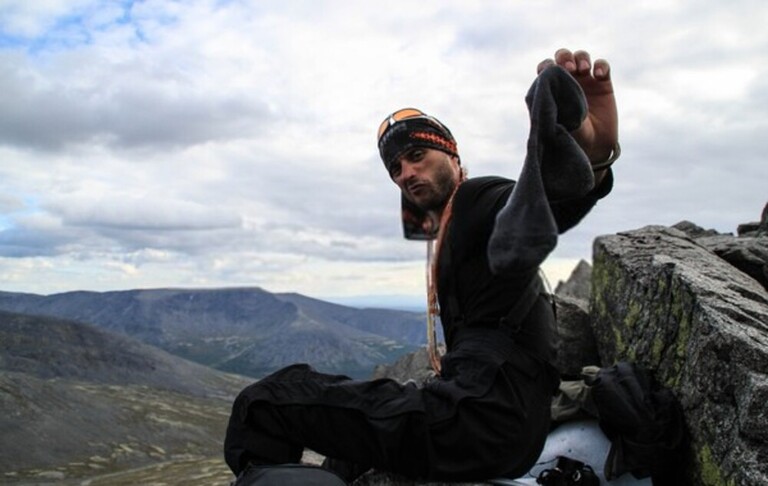 You should prepare some pairs of thin socks with good moisture-wicking properties to make sure your feet always stay dry and comfortable while you are hiking.
Besides, during a break, try to let your feet air out. After a day of the hike, you should dry out your boots as well and avoid exposing them too long under the sun. Leather hiking boots might be shrunk if you do that.
Wash Your Cooking Utensils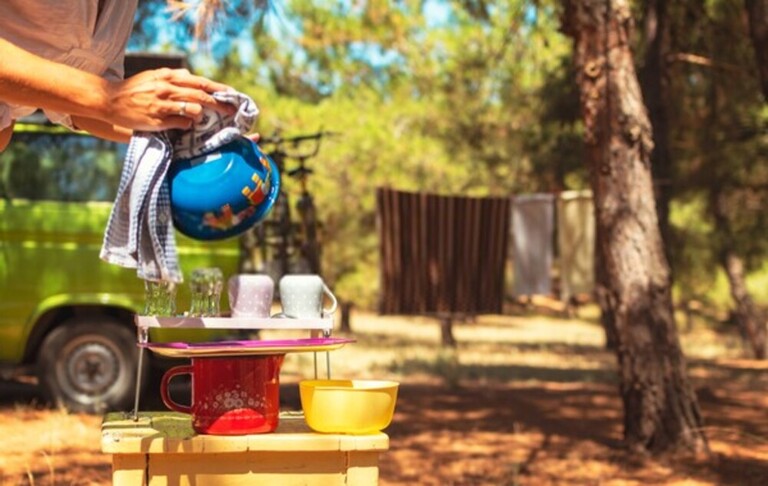 You'll need:
A pot
A stove
Biodegradable dish soap
A small sponge
Kitchen towel
A portable kitchen sink
Dig a 6" deep hole to pour greywater in it later.
Start with boiling a pot of water, then pour in cool, clean water until it is as warm as the bathwater temperature.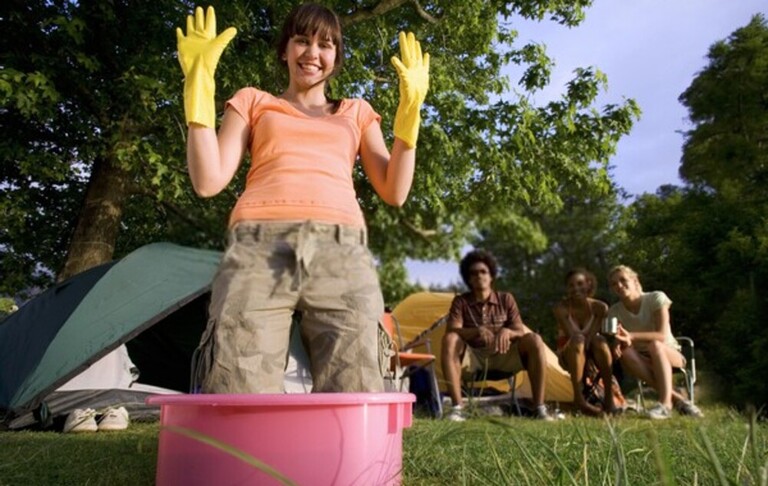 Fill ¼ of your sink with warm water. Add a few drops of dish soap, soak a sponge into this liquid and start cleaning from the cleanest dish to the dirtiest ones. Pour the wastewater into the hole. Fill the sink with clean water, then rinse your dishes.
Dry them using a kitchen towel before packing them up.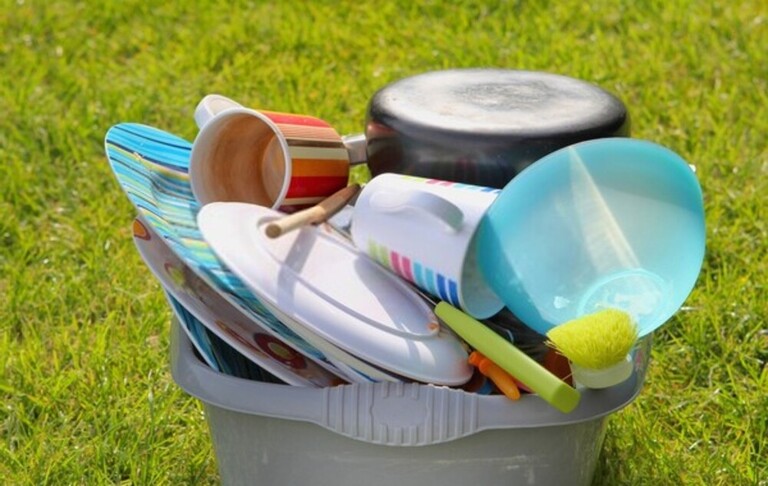 Extras:
If you go hiking alone, which limits the number of essentials to pack, or if you don't have a sponge or soap, use anything available on the ground, such as a handful of grass, leaves, or pine needles.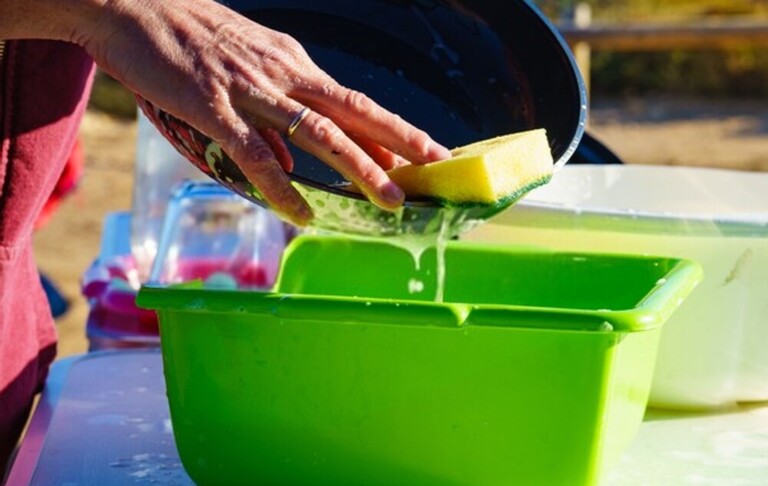 Only use biodegradable dish soap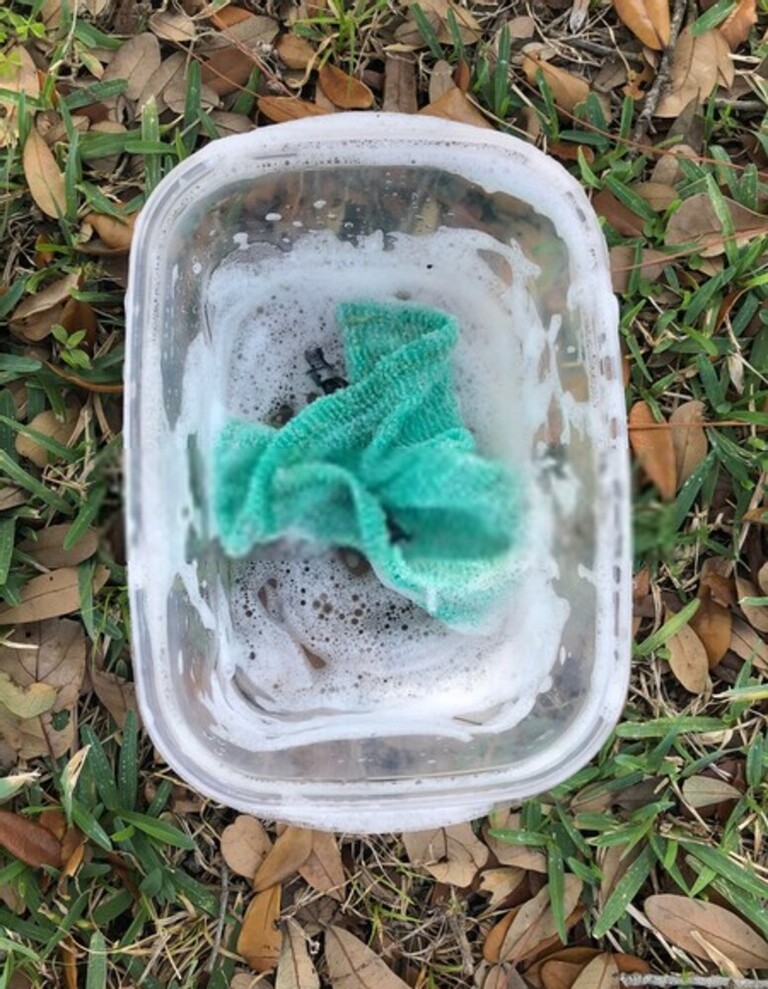 Always clean dirty dishes after cooking to avoid attracting animals, small rodents, and insects
Wash And Dry Clothes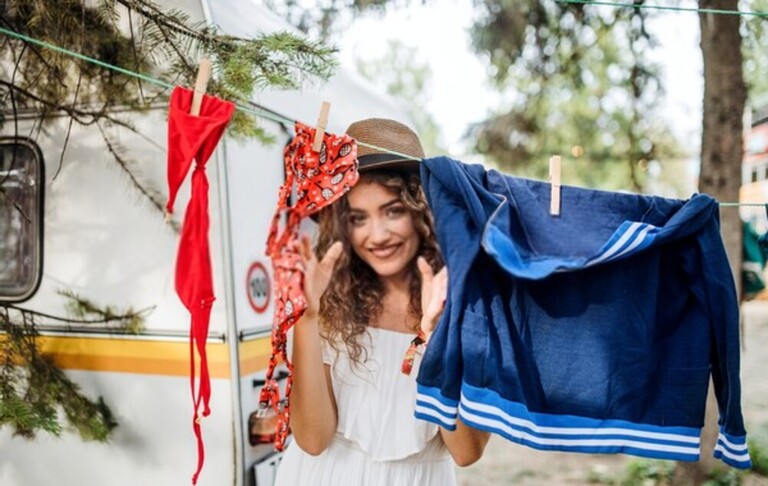 For those hikers who are planning for a week of the hike, you surely have to clean your clothes. Here are some tips on how to wash and dry them properly without harming the environment:
First thing first, the used clothes should be stored in Ziploc bags to avoid making your clean ones smell bad. To clean dirty clothes, you'll need:
Biodegradable soap
A dry bag/portable sink
A rope or clothesline
Dig an 8" deep hole at least 200' away from the water source.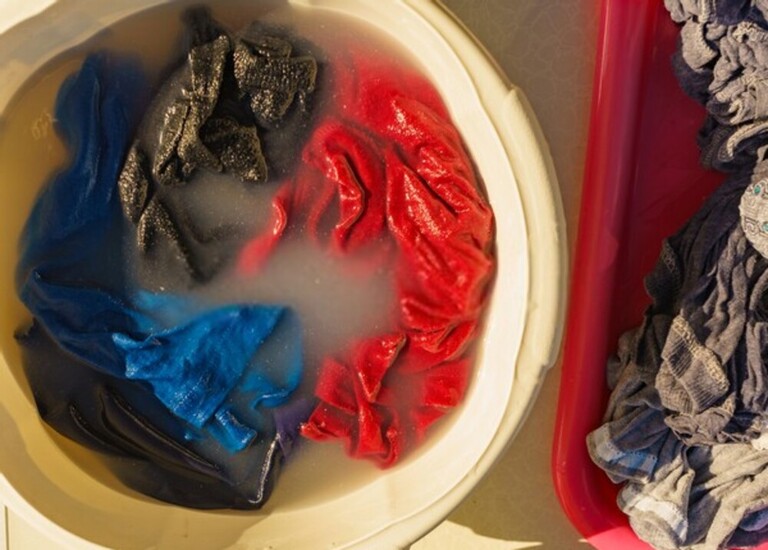 Put your clothes in the dry bag or portable sink, add warm/cool clean water into it, add detergent, then zip the bag. Now, shake it vigorously; try to imitate the spin cycle of your washing machine as much as possible.
Then, pour greywater into this hole. Rinse them with clean water, squeeze them, then hang out on the rope.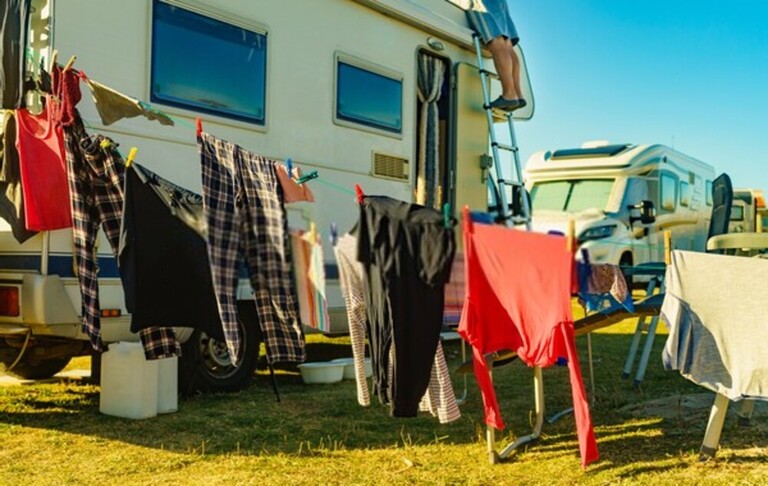 If your hiking place has a lot of insects and mosquitoes, choose dedicated soap with mild fragrance to avoid attracting them. It'd be better if you choose an anti-mosquito soap.
Note:
Never directly wash your clothes in lakes, rivers, or streams even though you use biodegradable soap, especially in a small and stagnant body of water.
Not to say that the antimicrobial silver nanoparticles in those clothes specifically made for hiking might cause harm to the water-living organisms
How To Bathe
Method 1: Wipes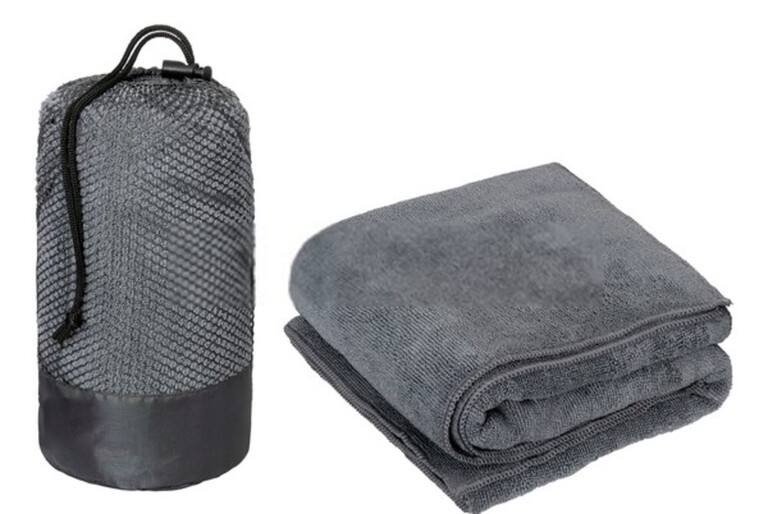 Perfect for those days you feel too tired to take a shower or you have too little water to bathe.
Prepare a small, thick towel made of cotton or unscented baby wipes to wipe off oils, sweat, and salt from your body.
Store them in your Ziploc dust bag.
Method 2: A Sponge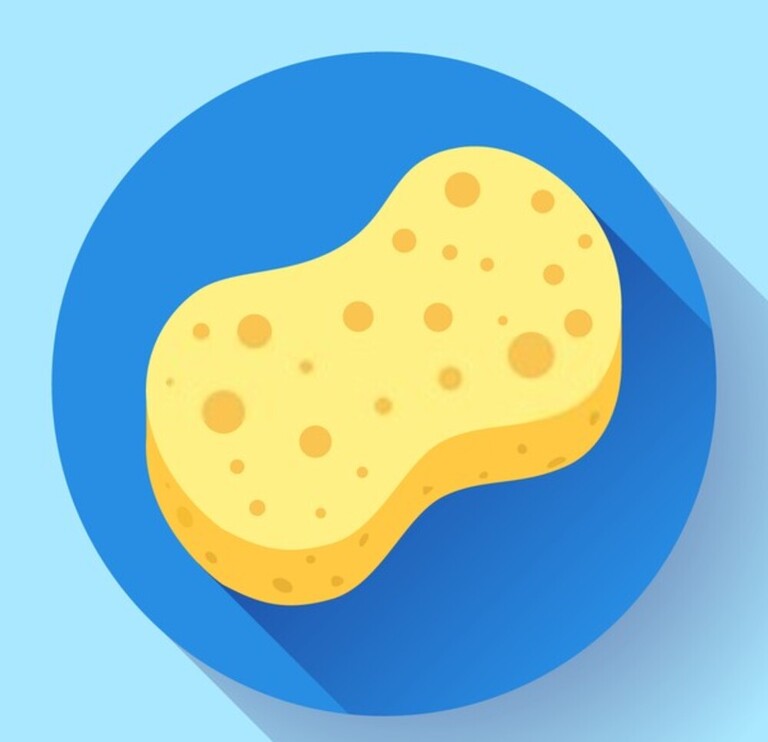 It's similar to method 1, which is suitable for long hiking days that make you feel exhausted, when you don't have enough spare water for a trail shower, or when the weather is too cold.
You'll need:
A portable sink
A sponge
Biodegradable soap
Dig a hole at least 200' away from the water source.
Take off your clothes. Squirt some biodegradable soap and water on the sponge bath, then swipe/scrub your body thoroughly.
Method 3: In A River Or Lake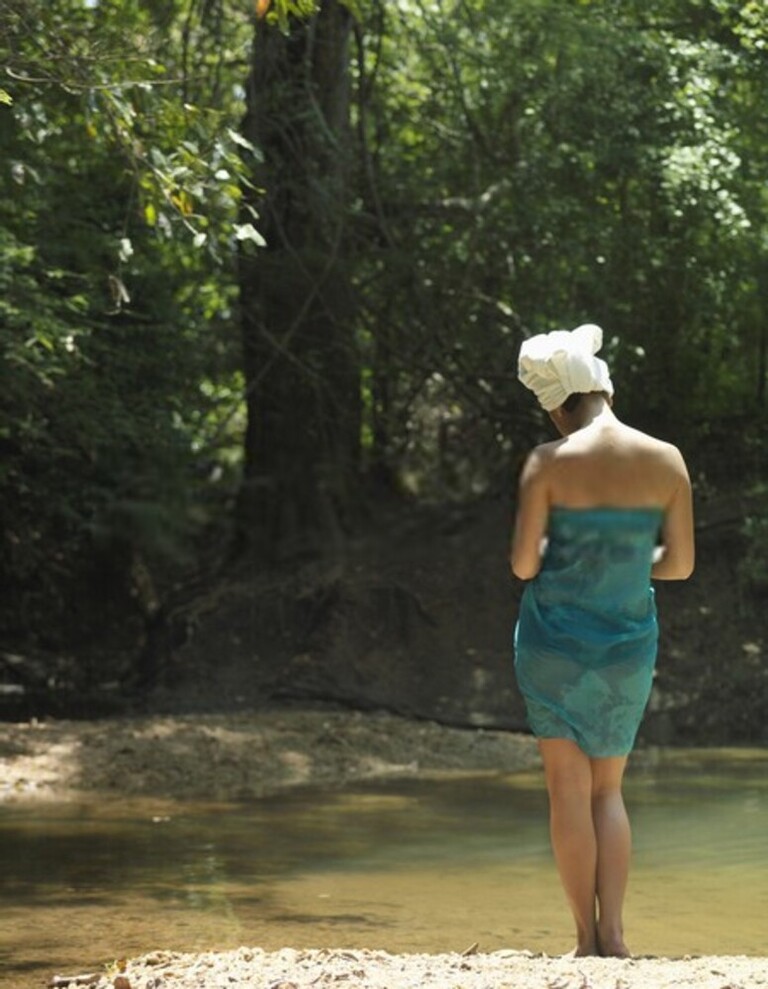 Make sure that:
You're going to bath in a narrow body of water
Use no soap or biodegradable, phosphate-free soap
You didn't smother yourself in insect repellent or sunscreen
Not wear clothes or your clothes don't contain anti-microbial silver nanoparticles
There's nobody use this water source for collecting drinking water from
Tips On Feminine Hygiene
What if you're in your period while backpacking?
The eco-friendliest way to deal with it is using a washable menstrual cup made of silicone. Empty it twice a day, and dispose of it in the way you do with other bathroom refuse. Fill the cathole before leaving.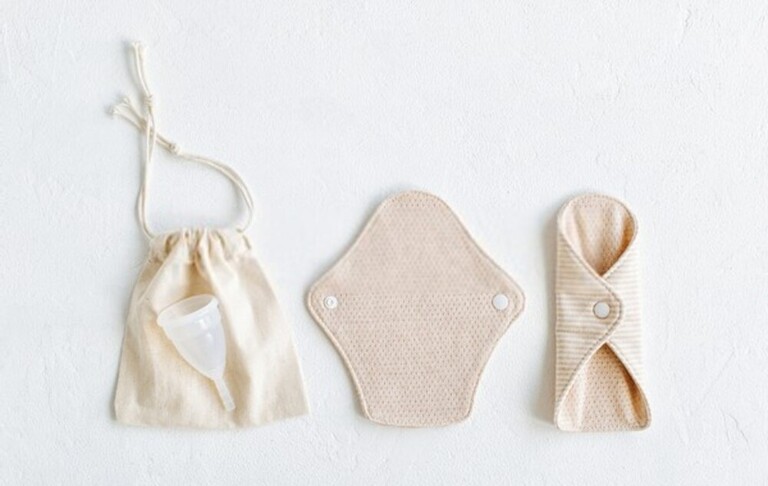 Make sure that your hands are clean before doing this. Remember to clean it properly at the end of the day with warm/hot water.
Another way is to use disposable tampons or pads.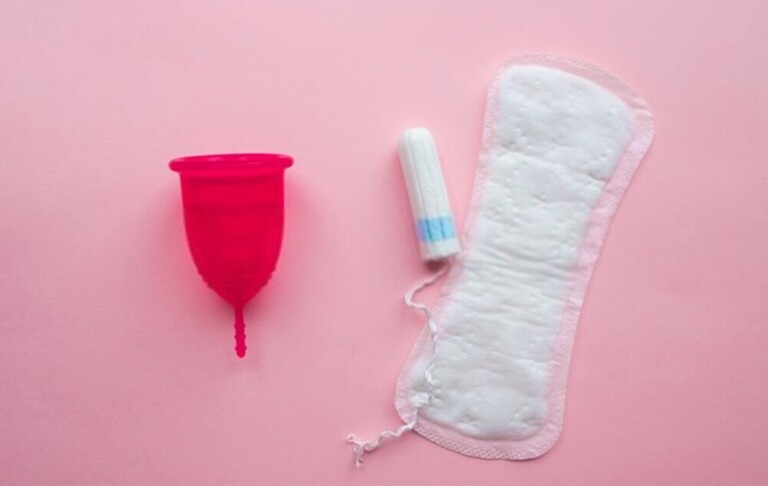 Once you're done, pack out the used ones in Ziploc bags covered with duct tape for more discretion.
Extra Tips
Wash your hands with sanitizer frequently to avoid spreading germs between you and other hiker partners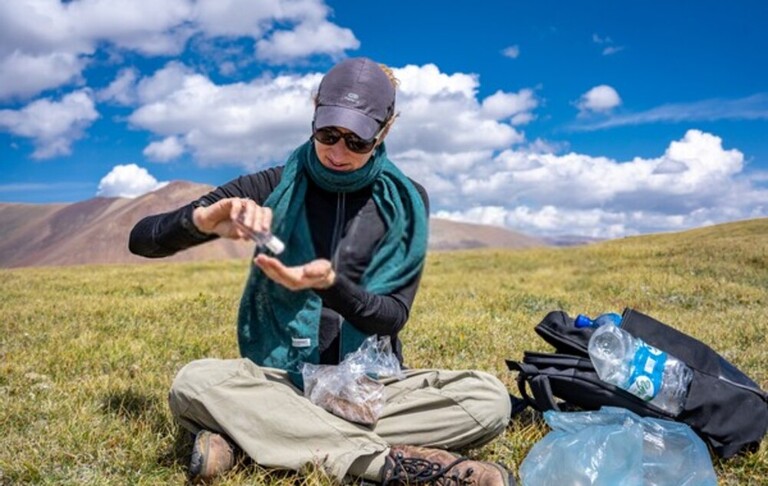 When brushing your teeth, try to use as little amount of toothpaste as possible. When spitting it out, don't focus on one spot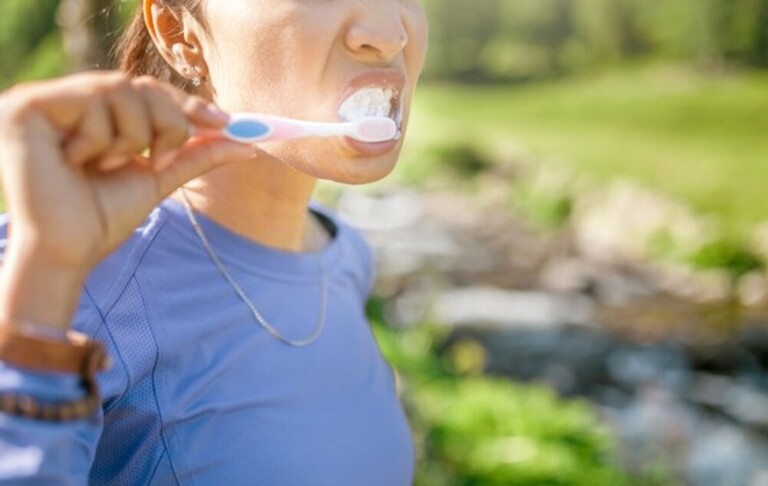 If you want to go number one, stand/sit at a place at least 200' away from the water source.
When you have to go number two, dig a 10' deep hole at 200' away from the water source, or prepare a reinforced nylon pocket trowel
Prepare leak-proof, durable trash sacks. Once it's used, seal it tightly, and attach it to the outside of your backpack as long as it's away from food.
Your Checklist
The essentials to carry during a hike for personal hygiene:
A squeezable water bottle
Washbag
Floss
Toothbrush
Toothpaste
Ziploc bags
Microfiber/cotton towels
Washcloth
Portable sink
Wipes
Biodegradable soap
Hand sanitizer
Conclusion
What do you think about our tips for personal hygiene when hiking that we've listed above? Do you have any good ideas and tips to share with us? We'd like to hear from you. Lastly, thanks for reading!