Hey guys! Will you have a beach party? Have you prepared anything to wear? Don't just buy swimwear. You should invest in a beach outfit that suits your beach party theme to stand out in the crowd. For instance, if your beach wedding party is held in Hawaii, adding a simple maile lei into your outfit can highlight your wedding party in Hawaii. For better effect, you can purchase an extra Hawaiian shirt here.
Apart from clothes, you can mix and match them with other accessories such as headwear, beach bags, beach tops, footwear, and sunglasses for a perfect outfit. Below are some recommendations to wear to a beach party for guys properly:
What To Wear To A Beach Party?
Below are basic items that are ideal for an outfit to a beach party for guys.
Swimwear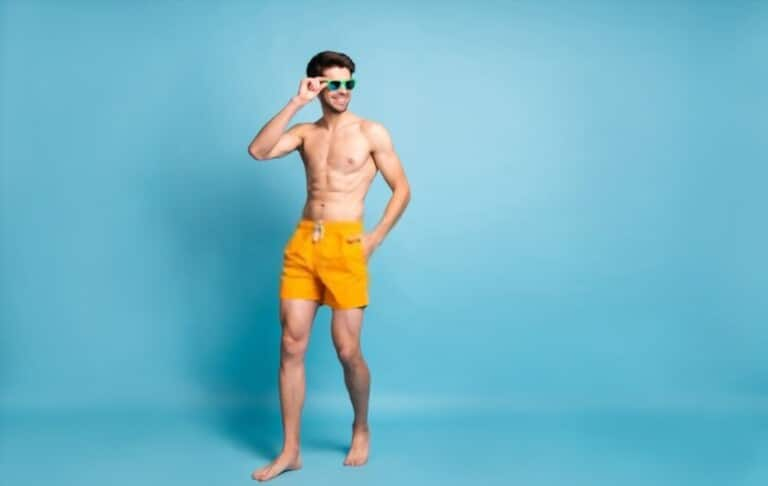 Swimwear for men can protect you from rash. If you don't like this type, you can choose the combo of a swimming trunk and a tank top as a replacement.
Linen Pants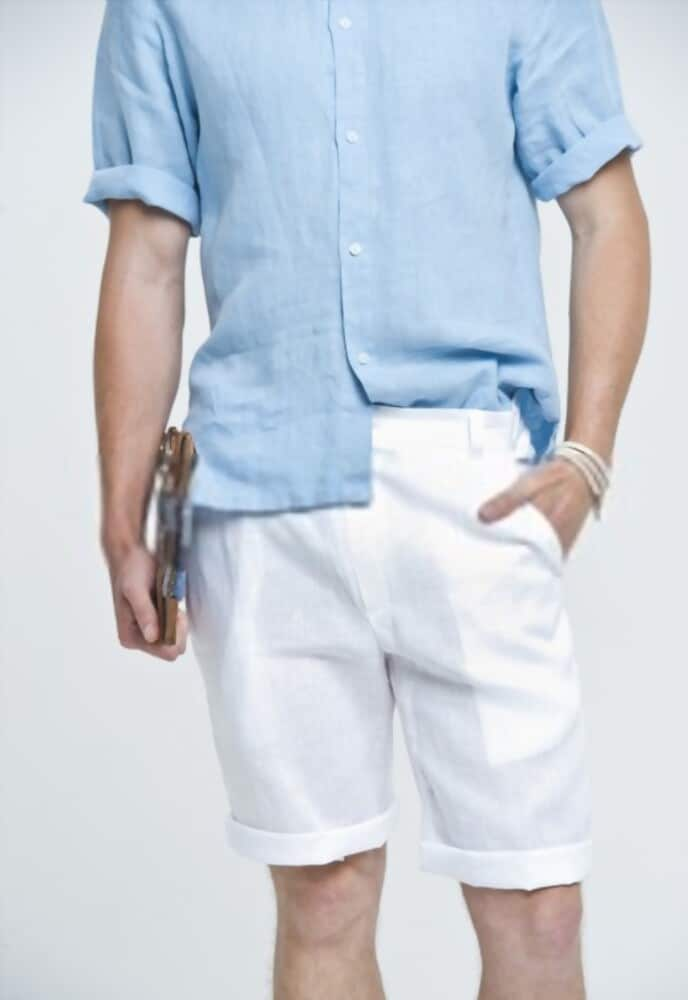 If possible, choose a pair of linen pants with detachable legs that allow you to convert into shorts. This is good if the beach party is held in a place with variable temperatures.
Classic Chinos
A pair of chino trousers is one of the basic items for guys at a beach party. It allows you to comfortably stroll without getting too hot. It's okay to mix and match with simple items such as an unbuttoned shirt or a clean white tank top with a pair of sunglasses.
Crisp White Shirt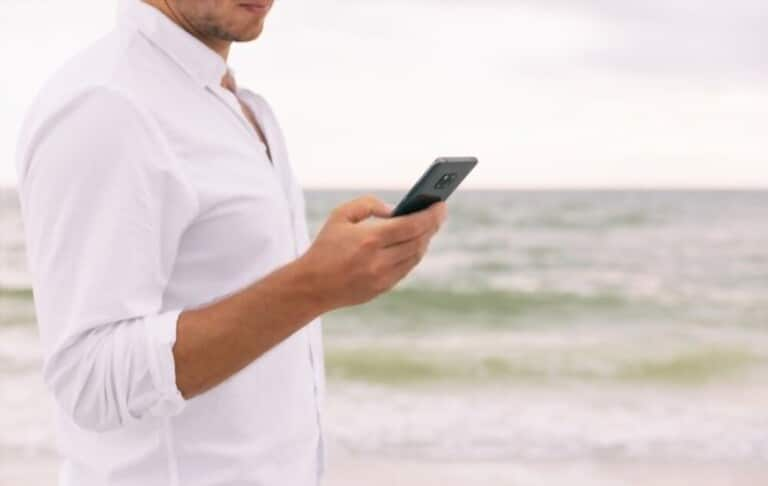 Crease is a part of summer style, so don't iron it. Plus, you had better choose a linen fabric that can absorb moisture quicker instead of cotton, which is an overrated material.
Polo T-Shirts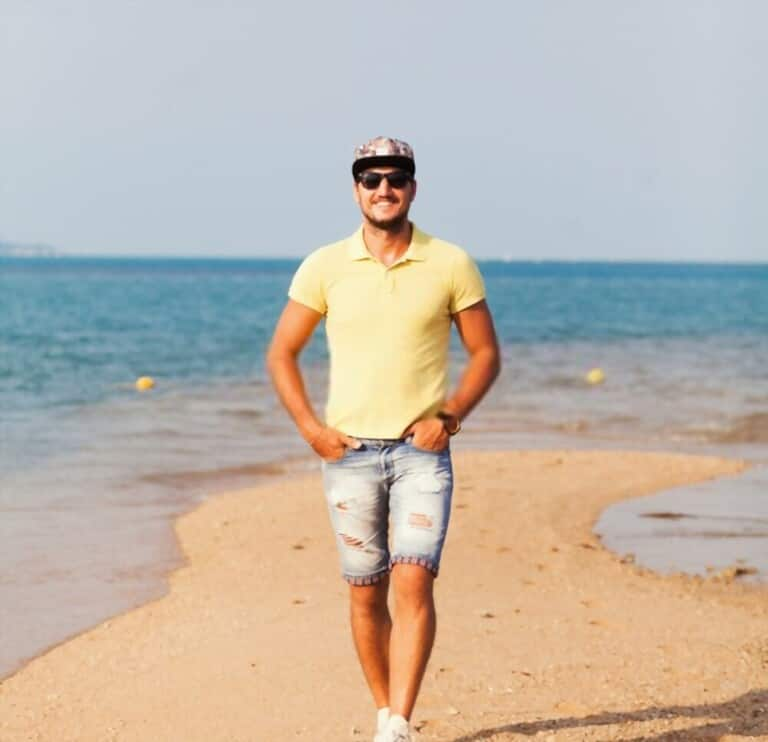 Colored Polo T-shirts are casual beach attire of men. However, what's the best part?
It's very easy for you to mix and match this type of T-shirt with anything such as denim jackets, shorts, and lounge pants. You can wear it on any occasion from the beach party to daily use.
Striped Outfits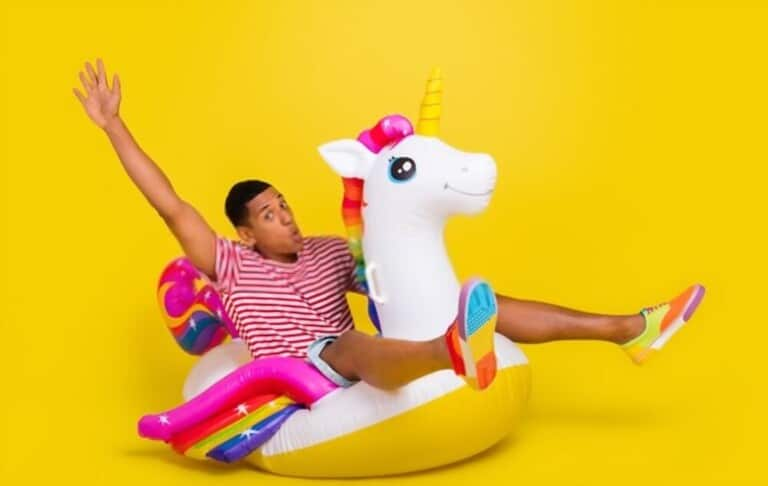 The stripe patterns are associated with nautical style, so it's popular in cruise and yacht festivities. Thus, it can amp up your beach style by 10 points in the beach party.
Flip-Flops And Sandals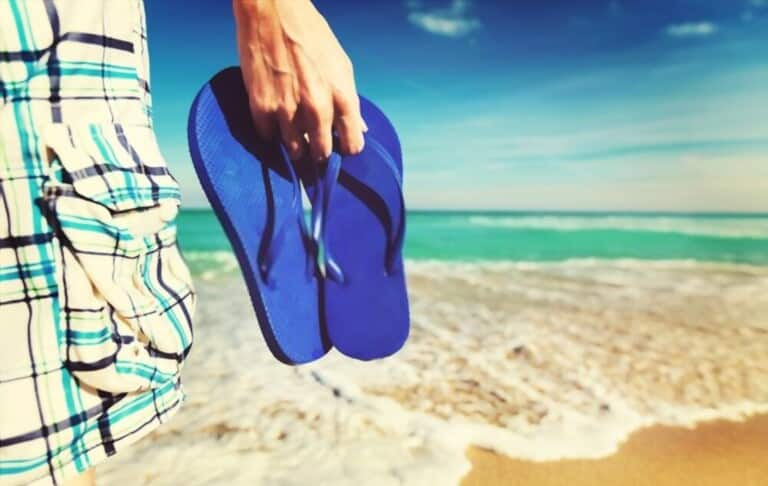 This footwear are perfect to use at the beach because they are so comfortable to wear. If the sand is not too hot, you can even go barefoot. It's so great to feel the sand's coarse texture.
What's more, wet sand works as an exfoliant that can peel off your dead skin cells, bringing rejuvenating qualities. You shouldn't wear a pair of shoes that are uncomfortable to walk on the sand that can even get in your socks and shoes.
Headwear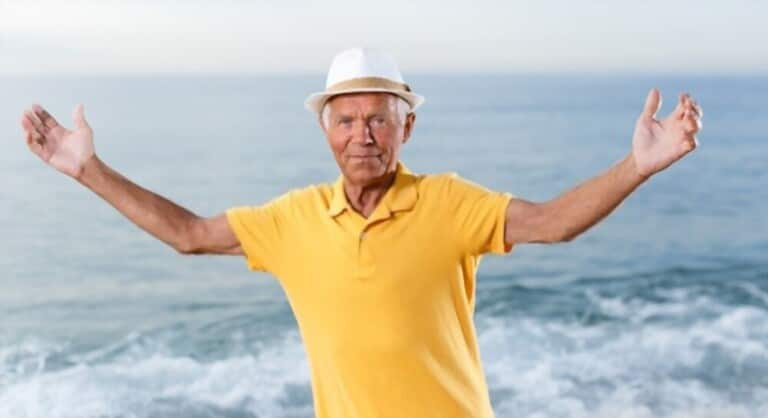 When joining a beach party, this means that you will spend plenty of time under the sun. Therefore, it's very important to prepare headwear that can protect your skin from harmful UV rays.
One of the most popular headwear is sun hats that can keep you from getting exposed to sunlight directly.
To add an interesting accent into your outfit, you can wear a fun bucket hat that is one of the largest trends in summer. If you want a comfortable outfit with this item, try to mix it with a muscle tee and denim shorts,
It's better to invest in a pair of sunglasses that can both protect your sensitive eyes and play a vital role as a fashionable item of your beach outfit.
Sunscreen
Even if the beach party is held on a cloudy day, you can still get burnt. Although sunscreen isn't a type of cloth, it's essential. This item can protect you from harmful UV rays.
Some Recommended Combinations
If you want to know how to put them together for a perfect mix, here are some recommends:
Tank And Trousers
The combo of a white tank top and a pair of trousers is a wonderful solution for a beach party on warm days. But, you need to keep in mind this rule:
If the trousers have a dark tone such as dark olive green, and gray, the top should be a neat item. Meanwhile, the footwear is as comfortable as possible, like a pair of sandals. For a perfect outfit, you can mix these items with a few accessories such as a pair of sunglasses, a belt, and a dainty necklace.
Open Shirt With Shorts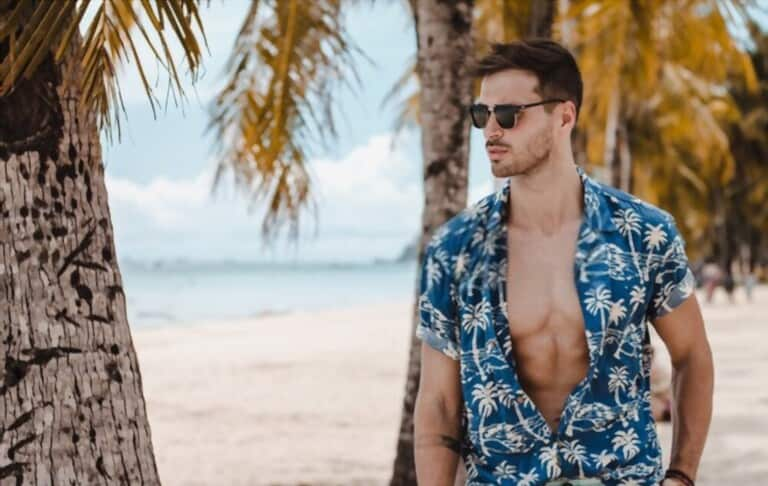 I strongly recommend this way of wearing for men who usually do exercises in the gym since you can show your muscles under the sunlight.
Linen Shirts With Chinos And Flip Flops
If you can't determine the current trends, just choose this combination. The basic and casual beach outfit doesn't run out of fashion. However, you need to remember some rules below:
Floral or printed shirts should be combined with plain solid chinos and funky flip flops.

However, plain, striped or textured shirts can be mixed and matched with funky chinos and flip-flops.
Shorts And T-Shirts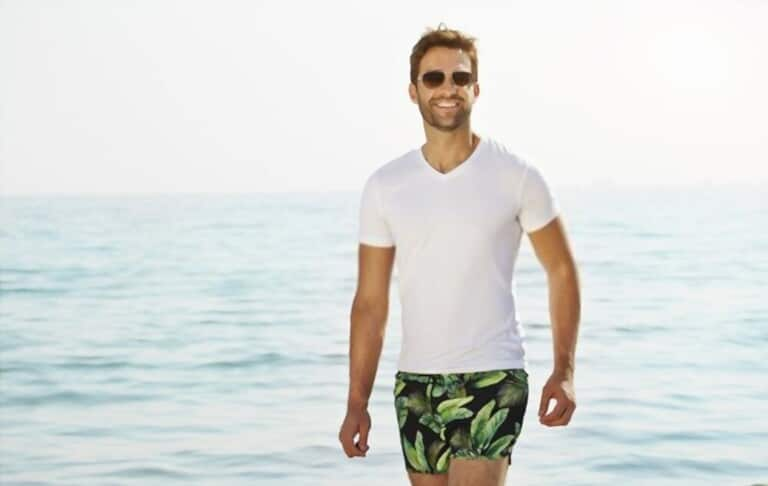 It's best to choose half sleeved T-shirts with bright colors to create a summer environment. You can consider prints and patterns for this combo, but, just choose prints on the upper or lower for the contrast mode.
Vest With Denim Shorts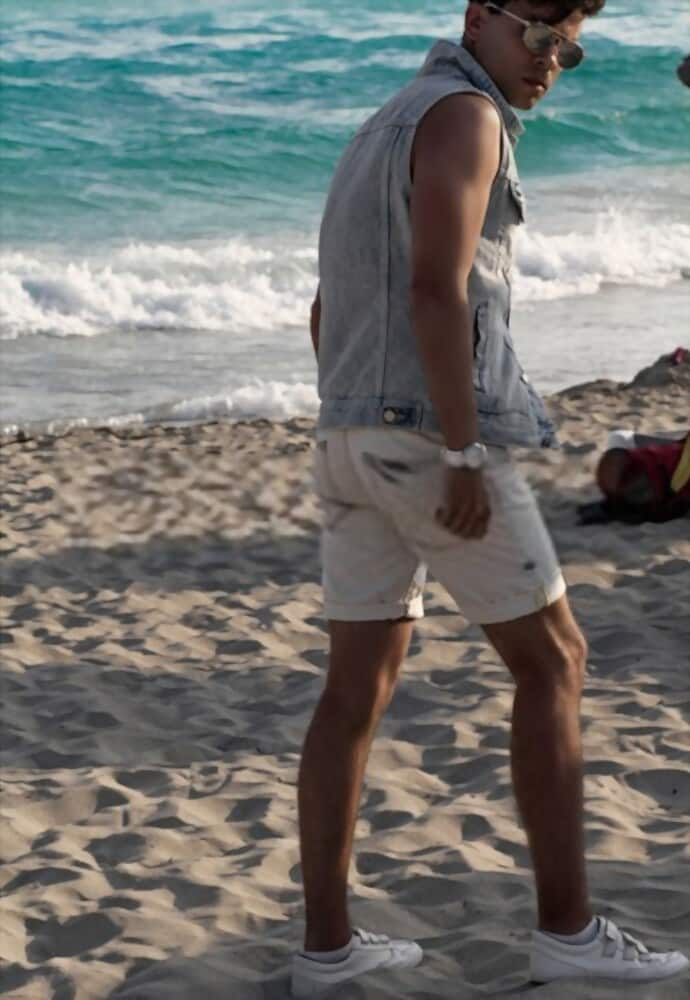 If you are looking for a solution to keep the balance of heat for your body, here is it. Vest and denim shorts with a pair of sunglasses are a perfectly classic combination. It keeps your body heat cool, but this outfit is still fashionable.
Oversized T-shirt With Shorts
An oversized T-shirt allows you to relax your body, but just pairing it with the right pair of shorts can bring a fashionable look to stand out in the crowd at the beach party.
Which Beach Party Theme Will You Attend?
Each or some outfits work well for different beach party themes. Before anything else, determine the beach party themes, the weather in this area, and your needs. Below are some kinds of parties:
Beach Wedding Parties
A Beach Formal Wedding Party
Despite a beach formal wedding party, there is no need to invest in a tuxedo. A suit is formal enough for a wedding party at the beach. Remember to combine summer elements into your suit such as bright colors, blue, for example, and summer fabrics such as linen and seersucker. If your beach outfit requires a tie or bow tie, you just need an item with a modest pattern or a solid color.
A Beach Cocktail Wedding Party
This is a type of semi-formal party, so you can use a tie or not. However, make sure that you have a classic long-sleeve button-down and a pair of dressy pants, which is mixed with a colorful blazer or patterned sport coat. When it comes to the footwear, you can choose a pair of on-theme boat shoes or good loafers.
A Beach Casual Wedding Party
A casual attire is good enough for a beach casual wedding party, but you shouldn't mix it with denim and flip-flops. This type of party is relaxed, so you can choose comfortable outfits such as the combination of khaki, chino pants, or shorts and a button-down shirt or a solid-color polo.
Some Outfits For Beach Wedding Party For Men
Open Button-Up Shirts
This outfit is ideal when the weather is nice, having warm temperature and high humidity. It keeps you comfortable but looks sharp. For a classic appearance, you can try with a white shirt, having the top 2 buttons unbuttoned.
Tie & Jeans
The combination of a button-up shirt, a sleek tie, and jeans can keep you cool. However, choose a medium-to-darker blue color that brings a nice and beach-friendly appearance.
Hats And Bow Ties
Although it's great to take wedding photos on beautifully sunny days, you need something that can protect you from harmful UV rays and strong sunlight. In this case, a summery hat is fashionable and functional.
Jacket
You can add a jacket into your beach wedding outfit, but make sure that it is made from breathable and light fabric such as seersucker, linen, and cotton.
Suits
Suits are a popular groom attire, but you should choose light gray color to suit the beach environment. Plus, this neutral color works well with any color scheme. You can add a playful pop to this neutral suit for a relaxed and lighthearted beach wedding. Some sherbet colors include pink, coral, and mint.
Hawaiian Outfit
If you plan to hold your wedding party on a Hawaii beach, you can consider this Hawaiian inspiration - the combination of a white shirt and khaki pants with a maile lei.
Rolled-Up Sleeves And Suspenders
If your wedding party is inspired from vintage style, this mix is a wonderful solution.
Sensible Loafers
If you need something that is more formal than flip-flops and sandals, a pair of loafers is great. This design is sharper. Although sand can go into these shoes, it's easy for you to shake them out.
What To Wear To A Beach Work Party?
This type of party just requires a casual look that is mixed from simple items like simple shorts and a T-shirt, a pair of sandals or white flip-flops with sunglasses and a hat. Below are the main clothes that you can mix and match them together for a suitable outfit for guys in a beach work party:
Short sleeve shirts are more casual than long sleeve shirts, so they work well for this type of party. For the best effect, choose lightweight and breathable fabric.
Whether you choose short or long-sleeved T-shirts, make sure that they are loose-fitting. It allows you to move freely without being restricted. Depending on the weather at the beach, you can pick soft cotton or thick and strong wool.
Though there are different styles of men's shorts, not all of them can meet your needs. For example, cargo shorts are loose trousers with pockets around the sides, which are great for parties with outdoor activities. Meanwhile, Chinos are slim and stylish shorts, working better for formal parties.
Hats vary in styles, colors, and fabrics (acrylic, cotton, and wool), but the popular choices usually include a good baseball cap or a cotton floppy beach hat.
FAQs
To avoid mistakes when choosing an outfit to a beach party for guys, refer to the answers for the following common questions below:
What Don't You Wear To The Beach Party?
A beach party is held for relaxed and comfortable moments, so don't let the fitted clothes and leather shoes make you feel so uncomfortable. Although sunglasses and watches are common accessories, just use them with UV protection and water resistance features at the beach.
Don't wear jeans trousers to the beach because they are uncomfortable.
Though high-heeled shoes are very popular at parties, it is not the case with the beach parties. If you wear a pair of high-heeled shoes at this type of party, its heels can dig too deep in the sand, making you fall flat. Even if there is no accident, it's so uncomfortable to walk on the sand with high-heeled shoes.
Like heels, it's also very difficult for you to walk in the sand with a pair of sneakers. Furthermore, it's straightforward for sand to enter these sneakers.
Before coming to the beach party, store all of your jewelry at home because you can lose them when taking part in any water activity.
When attending a beach party, you can be exposed to sunlight for a long time. Thus, avoid dark colored clothes, especially a complete black outfit that will absorb a lot of heat. Plus, this color tone doesn't bring a summer spirit to the beach.
What Do You Wear To The Beach Party At Night?
Normally, the beach weather at night is pretty cold. Even in the warmest regions of the US such as California and Florida, it gets chilly at night. If you live in California, the temperature of the beach can drop to a low point at night. Because of this cold condition with slight breezes, wear a warm outfit like a loose, long- or short-sleeved shirt, sweater, or even a blanket. In particular, some places are still cool in summer, requiring you to bring a hoodie when participating in the party after 9pm. In this part, I will recommend you the way to choose items for each body part:
Upper Body
In most cases, the legs and feet can handle the cool weather better than the chest and arms, so try to keep your upper body warm with suitable clothes. Some of them include hoodie, poncho, and cardigan for men.
For example, guys love wearing a Mexican poncho at a beach bonfire party because it is warm, cheap, and stylish enough.
Hoodies work well for areas where there is a low temperature because they can warm your hands thanks to a kangaroo pocket.
Both choices above are unisex, so men and women can wear them.
If you have a formal beach party, a cardigan can give you a classy and sophisticated look, but it still can keep your body warm.
Lower Body
Although it's cold at night, your lower body can withstand the low temperature better than the upper body. Therefore, it's okay to wear shorts (consider board short or khaki shorts).
Head
Though it's not essential to protect your head and skin from sunlight at night, an appropriate hat can keep your head warm (wool hat) and your hair from being windblown (baseball cap, for example).
How to choose a suitable beach outfit for short and skinny guys?
Short Guys
Short people avoid lousy and baggy clothes that make you shorter and fatter. Instead, well-fitting garments help you become taller. For example, you can try with above-the-knee shorts with vertical stripes. Remember to choose shorts that are made from lightweight and comfortable fabrics like cotton.
Skinny Guys
Horizontal stripes can help skinny people look fatter. You can choose breton stripes or thin bars, but don't wear sloppy outfits that make your body shrank.
What is the best beach outfit for people with long hair?
This is not a problem for people with short hair. However, if your hairs are long, making a bun style can protect your hairs from harmful UV rays, sand, and water elements when taking part in activities on the beach such as volleyball and soccer.
How To Choose An Ideal Beach Outfit For Seasons?
Spring
If the beach party happens in spring when the temperature is low with mild cold breezes, consider spring wear. This outfit can balance your body heat.
Summer
In case your beach party is on sunny summer days, mixing and matching light colors with pastel shades can make you look cooler.
Which Colors Of A Beach Outfit Do You Like?
Orange
An overweight guy should wear dark orange colors which can make them slim. Meanwhile, slim people have more choices, so choosing light orange and neon shades is more suitable with the summer environment.
White
If this is your favorite color, you can consider an all white beach outfit - the combination of white denim shorts and a white plain T-shirt or a white button-down shirt, for example. You don't need a pair of canvas shoes to look great. Just wearing flip-flops and putting on your sunglasses are enough.
Tips for choosing an outfit to a beach party
Before making a purchase, you need to remember some important rules below:
Colorful things can bring a summer environment, so choosing bright colors with prints and patterns or tie-dye and stripes increases your enjoyable beach vibes. However, this doesn't mean that you should choose an outfit with too many colors. A color pop is better than wearing a rainbow outfit. Also, minimal prints are better than big and too vibrant prints because the former can give you a cleaner appearance.

If you want to join the party to simply chat with your friends and enjoy delicious food and drinks without participating in other water activities at the beach, you can wear an outfit with long-sleeves. This design will keep you from getting wet and exposed to direct sunlight.

In case you plan to participate in some interesting water activities at the beach party, bring extra dry clothes. You won't want to leave the party while dripping with water and sweat on your body, right?

Don't wear thick fabrics like leathers and wool since hot weather at the beach can make you feel uncomfortable.

Don't wear socks that don't suit your flip-flops, even sand can enter the inside.

You can layer your outfit with a loose open short-sleeved shirt or long-sleeved shirt over the vest if the weather in the beach has cool breezes, or the sun is too hot.

When buying a shirt for a beach party, choose 100% cotton material that is soft, breathable, and comfortable enough to enjoy relaxing moments at the beach.
Conclusion
Though a beach party will bring a more relaxed environment compared to other formal parties, it doesn't mean that you can dress according to your mood. To choose a suitable outfit for a beach party for guys, you need to determine the party theme, the weather in this place, and other elements based on your needs. An improper outfit can keep you from comfortably enjoying the party. Meanwhile, the right beach outfit gives you enjoyable moments during the party.