The list below includes 8 longest paved bike trails in the US sorted in descending orders of lengths (the shortest is 113 miles) so that you can easily pick one that is suitable for your riding skills.
They are also specifically chosen based on a variety of terrains, landscapes, and more to give you different riding experiences. Now, let's dive right in!
Great Divide Mountain Bike Route (GDMBR)
Length: 3,083.8 miles
Location: Canada & New Mexico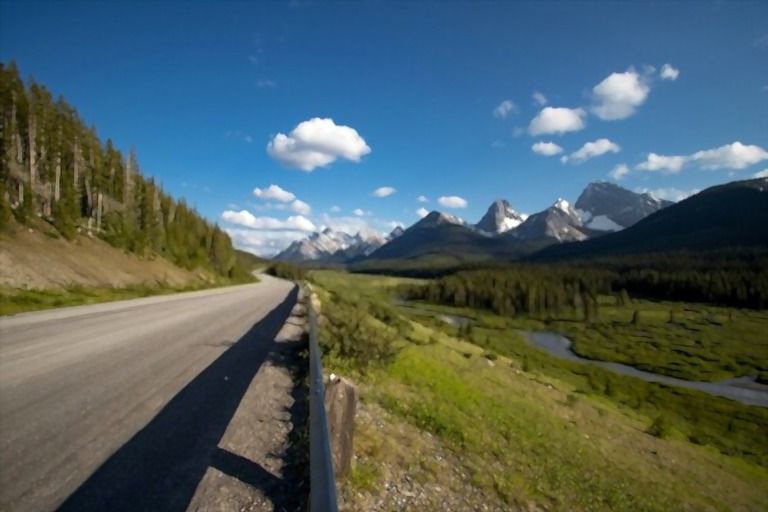 The longest of the longest paved bike trails in this list – with 3,083.8 miles, stretching from Antelope Wells, New Mexico to Jasper, Alberta, Canada.
It earns you more than 200,000 feet in changed elevation and cross summits of the Continental Divide 27 times, which is equivalent to 3 months taken of ordinary folk to complete.
One thing to note: Merely 90% of the GDMBR is on unpaved trails and roads so that you must have basic off-pavement bike riding skills if wanting to try it. Besides, there are just a few amenities in this area because it is a remote trail, in the wilderness.
But in turn, you won't be squeezed by cars when riding from border to border.
GAP/C&O
Length: 335 miles
Location:
The Great Allegheny Passage is from Point Park in downtown Pittsburgh to Cumberland Maryland
The C&O Canal Trail is from Washington DC to Cumberland Maryland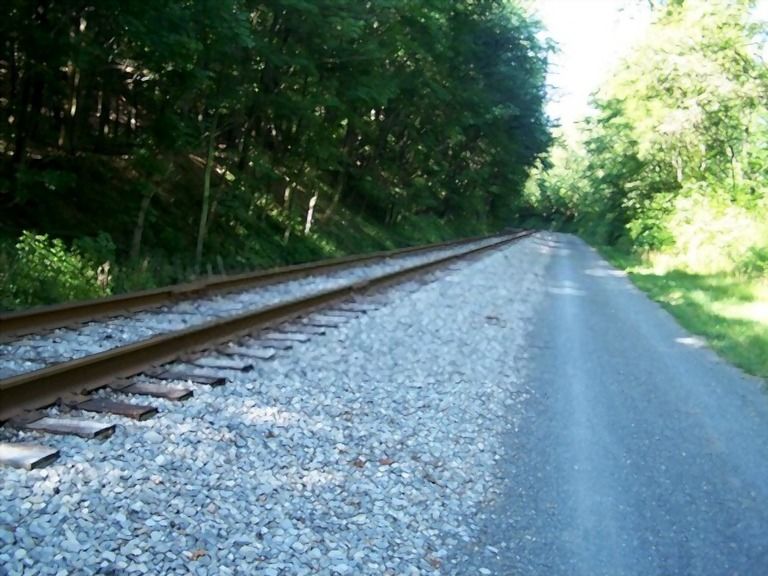 What makes this long paved bike trail outstanding is its location – between the endpoints of two big cities in America. And how wonderful it is when you can ride from downtown Pittsburg, PA to downtown Washington, DC with no cars encountered along the way.
Another big bonus is there are plenty of historical places along this multi-week trip.
Cowboy Trail
Length: 321 miles
Location: northern Nebraska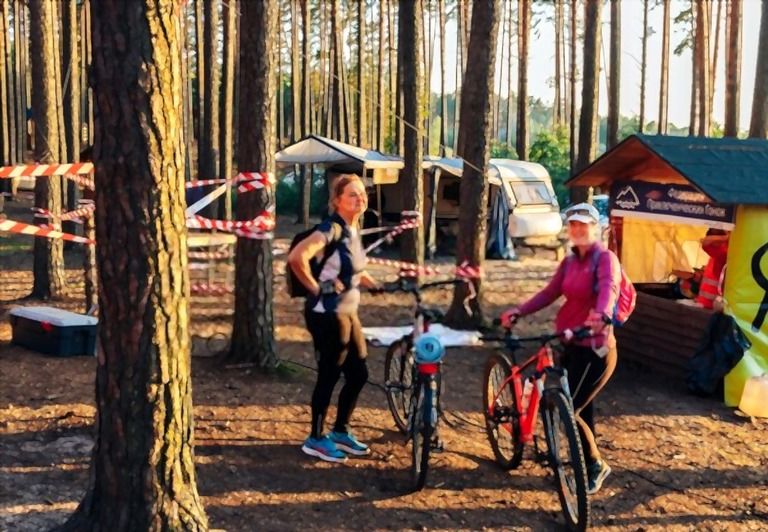 This is one of the longest rails-to-trails conversion in the US and also the most reputable recreational rail-trails in northern Nebraska. It has a length of 321 miles, running from Chadron to Norfolk and across the outback area of Nebraska.
Cowboy Trail is the favorite place of horseback riders, walkers, joggers, and cyclists.
A nice leisurely 5-day trip will take you through many beautiful peaceful places, such as flat terrain in abundance, lush grass, lodging, 200 wooden bridges, crushed limestone, and the small towns every 15 miles on the Nebraska prairie.
Kettle Valley Rail Trail
Length: 280 miles
Location: lower British Columbia
The reason why it's great for cyclists is the stunning mountain scenery glimpsed from an easy grade without exceeding 2.2%, the long tunnels, and the trestle bridges.
Although some trestles were ruined during the forest fire in 2003, they have been rebuilt soon and now become more and more appealing to pro cyclists. This bike trail is 280 miles long, which takes you around 8-12 days to finish.
It's a good start for intermediate riders.
Katy Trail
Length: 264 miles
Location: Missouri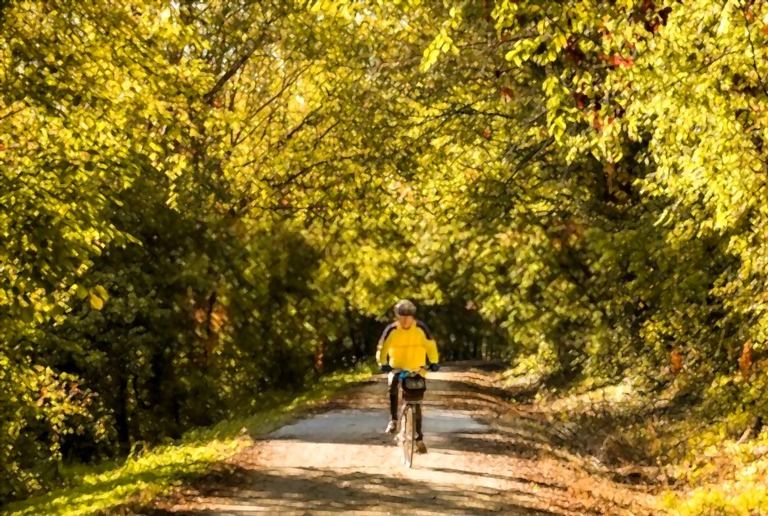 Katy Trail is located in the Katy Trail State Park, Missouri, running 264 miles mainly along the northern bank of the Missouri River. This state park, as well as the trail, is opened all-year-round to serve cyclists, joggers, and hikers.
Unlike other paved bike trails in this list, Katy Trail is hard and flat surface while loading of various bike support, historical sites, wineries, and B&Bs.
A week-long trip is enough to complete this trail.
Fun fact: It is also part of Lewis and Clarke's trail.
Paul Bunyan State Trail
Length: 115 miles
Location: north-central Minnesota
This multi-use recreational rail trail is named after the giant lumberjack Paul Bunyan of American folklore.
It runs between the cities of Bemidji and Brainerd, a length of 115 miles, cut through the heart of Minnesota lakes country and connects the Cuyuna State Trail, the Blue Ox Trail, and the Heartland Trail.
What makes it become an ideal trail for bicycling is the beautiful landscape with local hospitality, lots of places to stop for food, small towns, and 21 freshwater lakes along the way. This is also the golden chance for riders to follow the tracks of a giant lumberjack and his faithful blue ox.
George S. Mickelson Trail
Length: 114 miles
Location: South Dakota.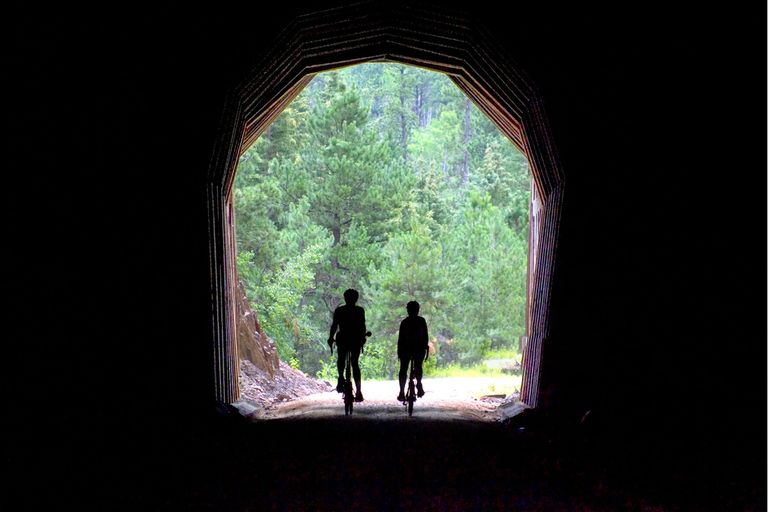 This rail-trail runs from Edgemont to Deadwood with merely 9 miles of additional branch trails. It is mainly within the boundaries of the Black Hills National Forest, or, in other words, it traverses the heart of the Black Hills.
The trail surface is packed gravel and crushed limestone, making it ideal for cyclists.
In addition, it comprises of over 100 converted railroad bridges, 15 established trailheads spaced along, and 4 tunnels. These trailheads include tables, vault toilets, self-sale trail pass stations, and vehicle parking so that you can stop by and take a break before continuing the ride.
John Wayne Pioneer Trail
Length: 113 miles
Location: most of the U.S. state of Washington
It is named to honor the John Wayne Pioneer Wagons and Riders Association for their help in constructing the trail.
With a length of 113 miles, crossing 2/3 of the Chicago state, from the western slopes of the Cascade Mountains to the Idaho border, it spans most of the United States state of Washington.
The trail surface is hard gravel, which is easy for bicycling. Traversing it, you will get a chance to observe the ranchlands and glacial valleys in the west as well as unshaded, dry sagebrush in the east. There are also many campsites, which allows you to get several overnights out of it.
Conclusion
That's all for this post.
I hope with the 8 longest paved bike trails in the US that are listed above, you'll have more ideas of go-to destinations for the next bicycling trips. Thanks for reading!