All of us tend to escape city turmoil and go for a "battery recharge" in nature. And, camping is one of those activities, but not without coffee, right?
Therefore, there are many different ways to ensure yourself with a great cup of coffee while camping.
Most of them are super easy and simple and worth investing in - since they can build-up your coffee-drinking experience to a higher level.
Now, let's see some of the best ways to enjoy nature with a smell of that intoxicating flavor of coffee with a first sunrise-sky vista.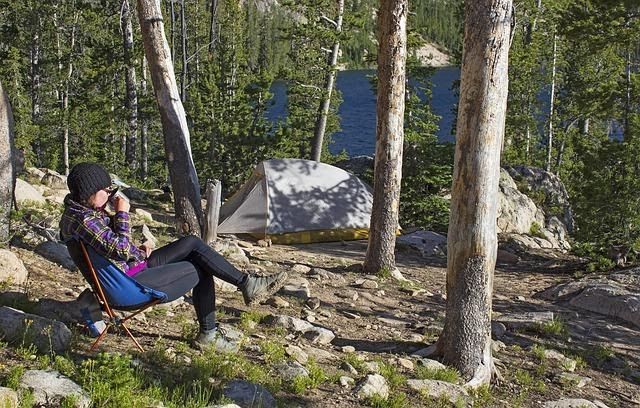 7 Easy Ways To Make Coffee While Camping
As I already mentioned, making coffee while camping is essential for some of us. So, here are some tips you should strongly consider for your next camping trip.
1. Coffee percolator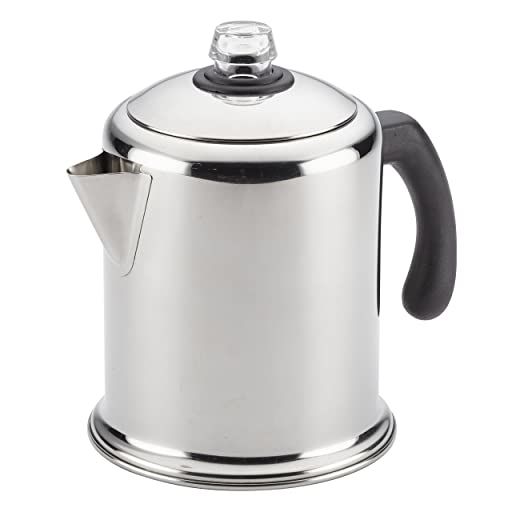 Back in the days, there weren't that many options for making coffee. If you appreciate the old school tradition, and who doesn't? - Then the best and most reliable option is to use a coffee percolator for camping.
Percolators work in the following fashion – as the water heats up it is pushed up a tube and it sprinkles over coffee grounds after which it returns into the kettle. This cycle continues until that water becomes irresistibly tasteful coffee brew.
Anyhow, you'll need a heat source to heat the percolator and 5-10minutes of time to get the coffee ready – but trust me, it pays off.
Nonetheless, percolators have higher serving capacity than other options – from 6 to amazing 20 cups of delicious coffee. Not only that, but they are also very durable, most have high-quality, steel design and are super easy to clean.
Notably, they are pretty affordable and without compromise in the richness, they produce.
2. Coffee tea bags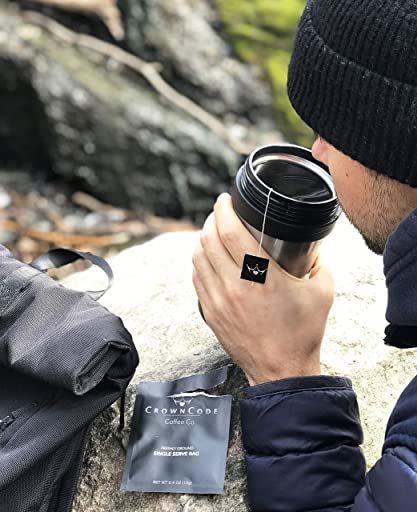 The simplest way to get a decent cup of Joe while camping is coffee tea bags. There are many options available and most importantly the brew in these bags stays fresh and tasteful.
Coffee tea bags work in a way that preserves the grind from oxidation because they are nitrogen-sealed the moment they are ground. That is why they'll give off that refreshing smell like they are off the grinder.
Moreover, the process of making coffee from a teabag is simple. You treat it like a teabag and, while preparing it, just pour hot water over coffee tea bag, let it sit for a few minutes and it's ready.
Additionally, if you want stronger and more striking flavor, squeeze the coffee bag after a few minutes in the hot water and leave it for an additional minute or two.
Finally, you can place your brew of choice into brewing bags which are available everywhere, if you like it that way. Therefore, you can grind the coffee from your favorite coffee beans and place them in the coffee tea bag.
3. Hand grinder and filter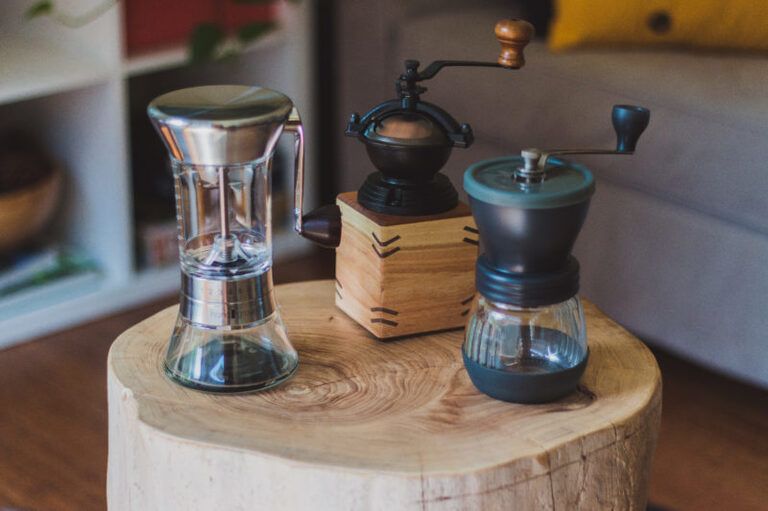 A good option for fresh coffee on-the-go is hand grinder with according filter. It is best to go for the smaller, cylindrically shaped, ergonomically designed grinder that is easy to store and grip.
Furthermore, hand grinders with the stainless-steel burrs are better because they are durable and easier to clean, making them ideal for outdoors.
The next step is to aim for the hand grinder with many grind/dial settings to get the coarseness you want and thus, a myriad of flavors.
Nonetheless, if you add to this a smaller metal-coffee sifter or paper filter, you'll get even more refined taste and enjoy a finer brew.
4. Portable espresso maker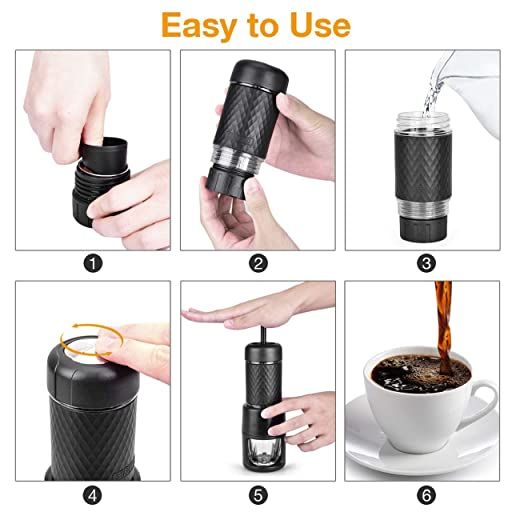 Now, for all those espresso-fanatics, bringing something that can make espresso in the wilderness is a must.
Therefore, portable espresso machines come in many versions – some are electric, some work on lithium batteries and some are entirely manual. In terms of weight, they can range from less than 350 grams up to 500 grams and over 500grams – while the heavier ones offer more options and better-quality coffee.
What's more, some work with ESE pods, some with Nespresso pods, and some can even brew ground coffee.
The main flaw of portable espresso machines is that they require a heating source and the finest beans or ground possible combined with a lot of experimenting to make a deserving cup.
5. All-in-one coffee mill grinder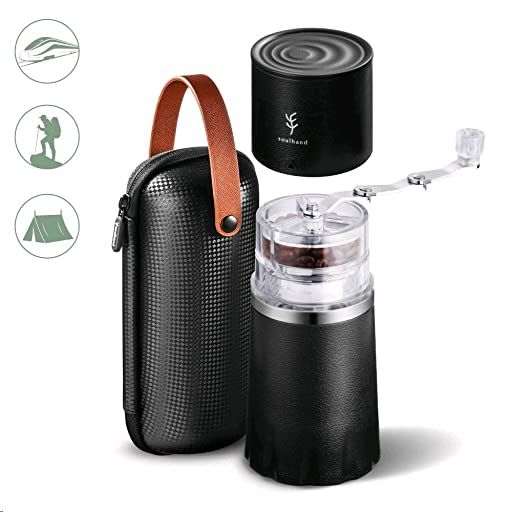 I mentioned hand grinders as a solid option, but what's even better is considering all-in-one coffee mill grinder. Not surprisingly, the all-in-one solutions have all you will ever need to make refreshing morning coffee, in a versatile and pretty convenient way.
Suffice to say, all-in-one grinders come with drip kettle, hand mill grinder, the metal filter used for dripping, and a tumbler cup and they are easy to clean.
6. Pour-over coffee maker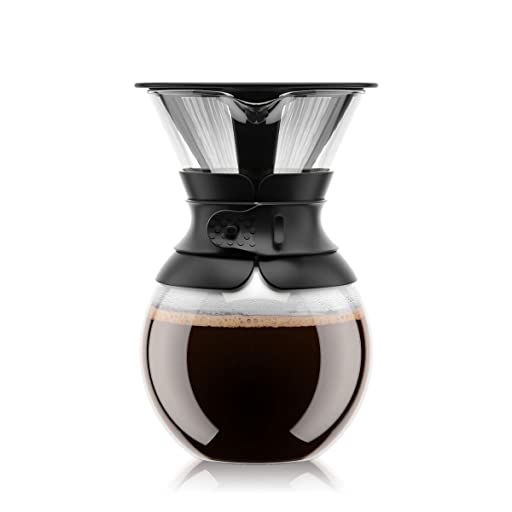 Well, are you exclusively a pour-over coffee fan? – If the answer is yes, then there are many options you can consider. Furthermore, you can choose from silicone and plastic ones over to the metal-ones.
They are the easiest and simplest options to make the coffee on-the-go and are almost maintenance-free (just rinse them after use).
However, make sure to find really good, uniform grinds and to have an advanced pouring technique and you are all set.
Pour-over coffee makers are the most affordable and lightweight of all the options – some are even pocket-friendly.
7. French press coffee maker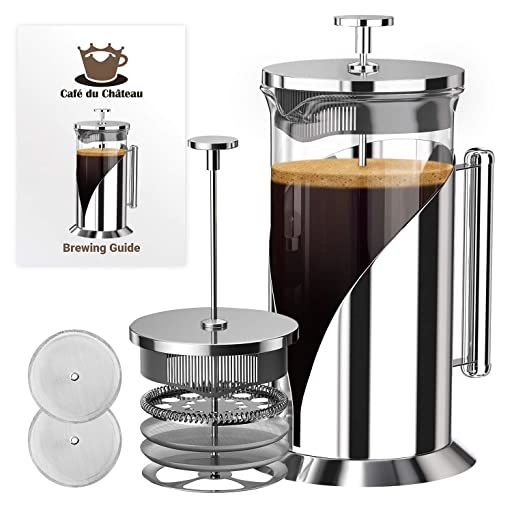 Many people say that the French press is the best method for making riches cup of coffee. It is one of the better options when it comes to camping as it preserves the natural flavor and gives a strong cup of coffee.
So, it works by immersion of the coffee in hot water and that is the reason why it captures that much of its natural aroma and rich taste. Furthermore, French press coffee makers come with double-wall, and some with even the triple-walled insulation. This will ensure that you always have a hot and tasty coffee inside.
However, the cleaning on some of them can take longer and can make a mess.
Conclusion
If you have decided to go camping and want that stream of energy each day than consider investing in portable coffee makers we discussed. The important thing to consider is the heat source you will have the access to and if the richest brew is a-must while camping.
If you just want to get that caffeine fix and have a smaller budget, then go for pour-over with easy maintenance. For yummiest brew and superior aroma with the addition of few useful capabilities, be sure to invest in a French press, portable espresso maker, or a coffee percolator.
Interested in reading more about camp coffee? Here is an interesting article that introduces some other ways to make coffee while camping.