Alaska – the large, unspoiled, mysterious, wildland comes with an overabundance of beauty that no travelers can explore in just one visit. The maleficent lodges, glaciers, mountains, and fjords of Alaska can bring out your spirit of adventure immediately.
If you'd like to make every single moment of your Alaska trip well-worth, let me share some best things to do in this cool place:
1. Fishing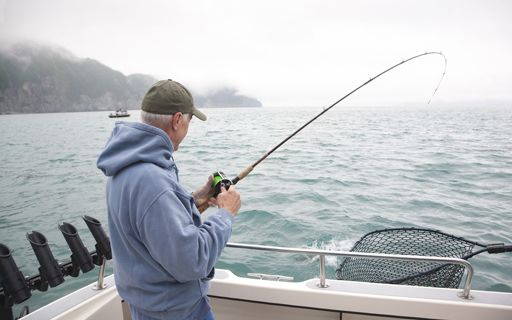 With over three million lakes and thousands of fish-filled streams, Alaska is arguably a "heaven" of worldwide fishers. There are more than 627 species inhabiting in this wonderful place, such as pike, salmon, halibut, trout, Dolly Varden, arctic char, and grayling.
The recreational fishing activities here are accordingly very variable, including spectacular saltwater, freshwater, ice-, and fly fishing. From taking a floatplane tour to going to a secluded fishing spot or chartering a boat to simply pulling off a road's side and casting a line.
It's fun and exalted all year round.
But if your favorite is King Salmon or Chinook, visit Kenai River, Alaska from May to September. From my experience, you can catch at least one type of salmon during the entire summer.
Those who prefer to seek some adventures away from the crowds, looking for Alaska's "alternative" species, you should try the luck in interior streams and lakes.
For example, north waters will give you more chances to catch sailfish while in the southcentral streams are rich of rainbow trout (Bristol Bay) and Dolly Varden.
If your favorites are Northern Pike, Innoko River is really worth a try and for Arctic Grayling, casting in Denali Highway will give you great results.
Some other suggestions:
ArcticChar – Northern Brooks Range & North Slope
Lake Trout – Brooks Range
Coho Salmon – Kodiak Island
Steelhead – Southeast AK
Sheefish – Kobuk River
Saltwater fishing - Afognak Wilderness Lodge
2. Kayaking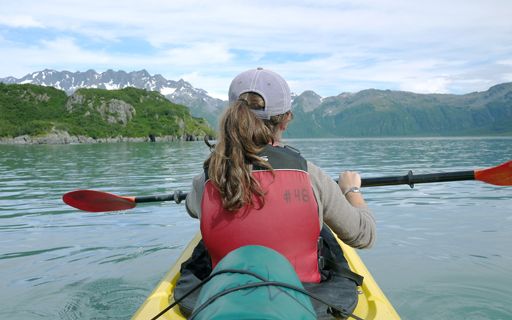 If you're a canoeing or kayaking enthusiast, Alaska is an ideal place to experience by kayak.
There are many stunning landscapes to visit such as Skagway, Haines, Juneau, Ketchikan, Homer, Kachemak Bay, Girdwood, Spencer Glacier, and Anchorage.
With two major ways of kayaking:
Plan your own kayak adventure
Enjoy small group guided tours
The first option is also the most favorite pick of backpackers and adventurous travelers. If you'd like to challenge yourself or to stop for fishing or enjoying the landscapes, start with renting a kayak.
In Alaska, both double and single kayaks for rent are available. The fee will fluctuate between $50 - $85 for a double kayak and $40 - $70 for a single. Take some advice from the kayak rental company to get the most suitable model for your kayaking skills.
For newbies, I highly recommend choosing a guided tour. It's rather affordable – a mere $150 - $250/person – and you can join a group of 2 or 8 people.
After choosing the most suited option due to your preference, next is to equip you and your kayak some vital gears and tools. From my experience, sunglasses, water bottles, hat, and sunscreen are indispensable.
Don't forget to bring a water pouch, binoculars, and camera to soup up your trip.
3. Whale Watching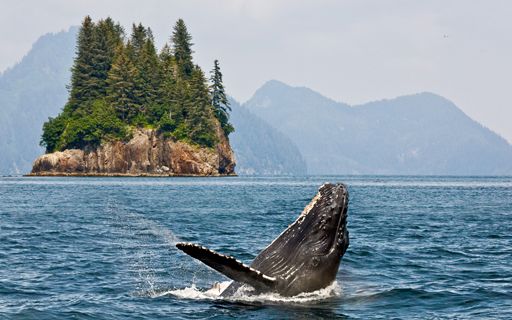 Have you ever seen whales from a cruise ship? It does happen in Alaska, guys and this watery activity is, in fact, one of the hottest things that visitors should do here.
The whale watching tours are varied nowadays, from Seward to Kenai Fjords National Park with diverse species. There is beluga, orcas, grays, and humpbacks whales.
During a whale watching tour, you will have chances to see many behaviors of this friendly mammal, like:
Sprouting
Lunging
Spyhopping
Tail slapping
Tail lobbing
Breaching
Take note of the best viewing time period because it's different from species to species. For example, while the best viewing time period of orca whales occurs during May – June, it's good for gray whale watch between April and May.
Minke whales, belugas, Humpback whales, and Blue whales are usually within June to August.
Another thing to consider is a time of each cruise tour. From my experience, there are 6, 7.5, and 8.5 hours to choose from with gradually higher prices. Choose one that fits your preference and budget the most.
Last but not least is the responsibility of the cruise company to protect the safety and health of whales.
If you're an amateur in this thing, here are some easier signs to know if a company is reliable and responsive:
Do they abide by all NOAA marine mammal viewing guidelines?
Are they a member of Whale SENSE?
Tips:
The best place to watch whales is on the cruise deck
Bring waterproof gear, especially cover your smartphone and camera to avoid damage
Dress in layers because the ideal whale watching time is usually in the cold season.
4. Camping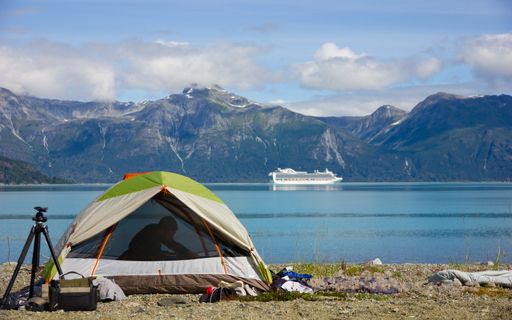 If you only have a few days to a week for your Alaska trip or want the freedom of exploring place-to-place by whim, camping is a good idea to try.
I love the ease to explore many road-accessible wildernesses both as a resident and a tourist here, especially along the roads in Northern British Columbia and north in the Yukon Territory.
Choosing the best campground is never excessive and throughout Alaska, there are over 400 options. However, don't blindly book a slot in those well-known campgrounds like national parks or Kenai Peninsula from Friday to Sunday because they are insanely overcrowded.
If you can't go there on the weekdays, my recommendation is to make a reservation well in advance.
The camping styles are also diverse to worth careful considering, you can go car camping, tent camping, or RV. Choose the one you feel comfortable to camp in.
If you decide to choose camping car rental, a wagon or SUV is good to go because they usually come with a luggage rack or roof rails on top and flexible storage on the backside.
Next is assembling your gear. For those who intend to go to Alaska by ship or air, consider carrying these vital items:
Small propane camping stove
Freestanding tent with stakes, rainfly, and tie-down cords
Personal items and clothing
Camera, binoculars, hiking poles, fishing gear, and other adventure gear
Utensils
Skillet and nesting camp pot set
Airline pillow
Sleeping bag rated within 20 – 30 degrees F
If possible, try to bring your own gear, especially during the summer - the hottest time period for camping in Alaska because renting camping gear is never cheap here. The bargain is useless, either.
With tight luggage, my recommendation is trying to carry a sleeping bag, pad, and cooking gear (as they are harder to find).
Meanwhile, let purchase a roomy-but-affordable car camping tent (under $120). Then, a bottle-top propane burner (less than $50), two bungee cords, 5-gal plastic water jug (under $25), and so on.
It'd better to camp during dry, sunny weather because setting up everything is quick and convenient. But from drizzles to downpours, you should equip yourself some polyethylene tarps. If you're new to this, learn more here.
Another nuisance is the bugs and here is where the poly tarps combined with strategically placed mosquito coils saves the day by making an insect-resistant refuge. One costlier solution for this issue is using a screen tent whereas the cheapest one is to create a campfire.
5. Hiking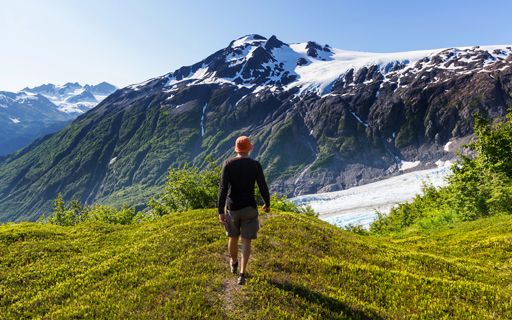 Though riskier, hiking in Alaska allows you to discover all the hidden gems it has to deliver.
The best destination of hiking I'd like to suggest you is Slaughter Gulch in Cooper Landing that takes a mere 4-mile roundtrip with an emphasis on spectacular blue waters of the Kenai lake and river.
Or, some other easier to hike places like:
Hiking spot

Mile Range

Highlights

Horseshoe Lake Trail

0.9

Guided Ranger walks are available

Have a small parking place near the railroad tracks

Anchorage – Flattop

1.5

Have scenic overlook – view surrounding Chugach Mountains

Trail of Time at the Mendenhall Glacier Visitor's Center

3.5

Get an up-close look at the glaciation effects

Have a trail that connects with the East Glacier Loop

Ward Lake Trail

1.5

Connect with many fishing sites, camping, and picnics.

Talkeetna Lakes Park

3.5

Offer a chance to see many wild animals, like loons, foxes, beavers, and raptors.

Can take part in many outdoor activities like paddling, canoeing, fishing or watching birds.

Tony Knowles Coastal Trail

11

Get diverse views of downtown Anchorage, the Chugach Mountains, and even Denali.

Rare to sight bears

Can take exercises here, like bicycling, running, and walking
…are also worth a try.
To retain your safety, it's essential to take some safety precautions:
Respect the wildlife by being aware of your surroundings and keeping your distance if you sight a wild animal.
The most commonly-seen one that you might find during the trails is moose and they will charge you if they find you as a threat. (In the worst case, run away or put something solid between you and moose)
Bring bear spray since bears are another commonly-seen wild animal. But unlike with moose, bears will chase if you run from them. Instead, raise your arms above your head to make you look bigger, talk in a calm voice, and slowly back away.
In the worst case, if they decide to attack you, use the bear spray and get down (if it's a brown bear) or fight back (if it's a black one).
Always hike with someone else, especially in a group or with a hiking expert. You need a buddy to make a deterrent to wild animals or simply in cases, you need some help from them.
6. Dog Sledding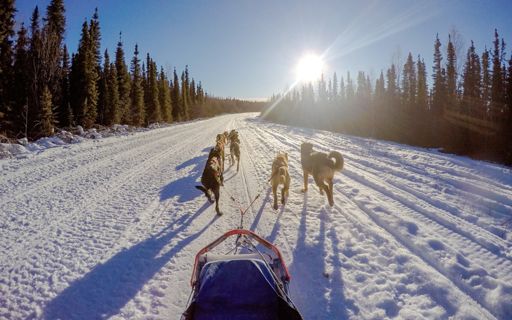 When visiting Alaska, it's worth the splurge if taking a glacier dog sledding tour, whether for a couple of hours or an extended time period. It will bring you into the heart of what makes Alaska such a renowned destination.
The price for each tour (whether booking through a cruise ship or privately) will be somewhere between $500 - $700/person.
I know that not many of us usually spend such that much for something and I myself on the very first time hearing that high price tag almost ran away. But some careful research lets me know that this already includes a helicopter trip to transport from/to the mountains.
There will be some other additional activities, such as glacier, wildlife, musher's camp, play with sled dogs, depending on the tour you choose.
And is it worth the price?
I'm glad that I didn't cancel the tour. You will get a lot of bang for your buck, guys! The unparalleled views from the glacier are something that you only can get from a helicopter flying above them. This is my most favorite part and that's also the major reason for such premium price.
The second joyful part is playing with the dogs after sledding and I bet nobody would hate the moment when you land in a helicopter and the dogs go berserk absolutely. Dog sledding and glacier are two unique things that nowhere but just Alaska offers.
It's also variable in the dog sledding ports, but the most popular are Juneau, Skagway, Seward, Denali, and Anchorage. The whole trip will be 2-3 hours, including 25-40 minutes of flightseeing via helicopter and others for the rest.
Some things you should keep in mind when booking a dog sledding tour:
Be aware of the number of people to join. In some ports, it's prohibitive for 20 people and up.
Get to know the age limits for kids (which is varied amongst companies)
It's really cold on the glacier so, ensure to wear layers
Tour is weather dependent and usually canceled in the morning because this time, the sky isn't clear yet to take a fly. A tip to avoid this is booking the tour as early in the week as possible.
Put large bags into lockers before getting into the helicopter.
Conclusion
Visiting Alaska requires more planning than when you travel to other places but it's a unique and authentic experience, giving you a richly rewarding vacation and feel every pennyworth.
As you can see, there are really many ways to see Alaska with differentiate interest (and budget, by the way). So, consider carefully and I hope you have fun during the trip.